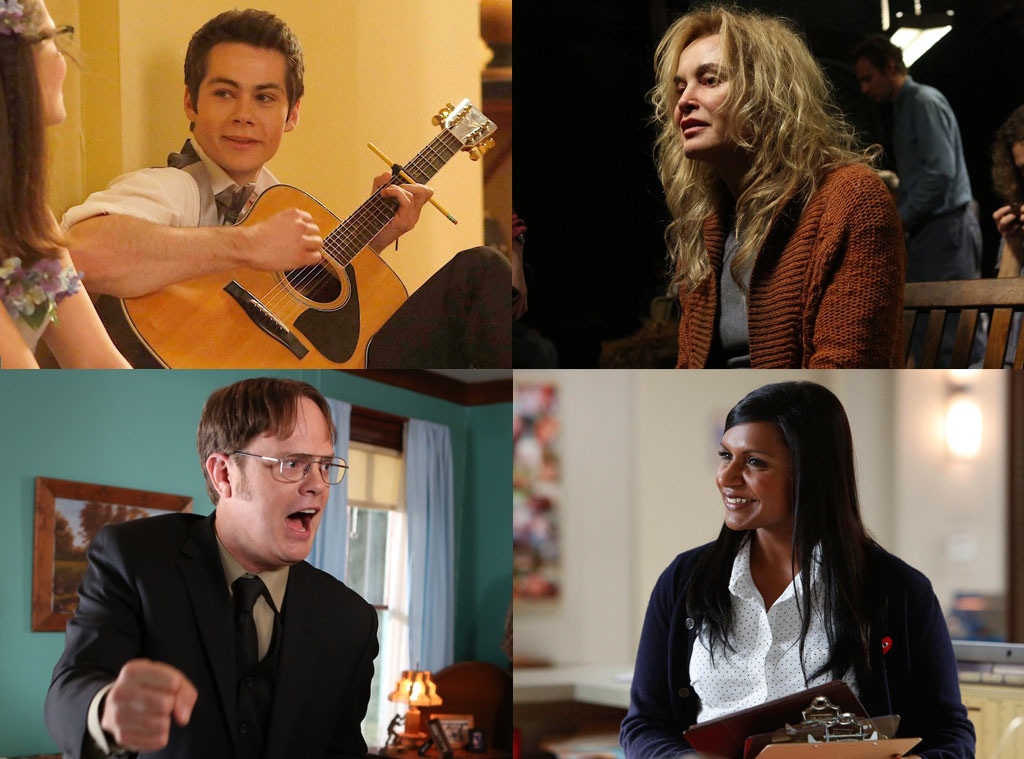 FOX, NBC, FX
Turn up Madonna's "Like a Virgin," 'cause you're about to be scooped for the very first time!
OK, horrible intros aside, we've got some fun scoop to share on New Girl's "Virgin" episodes and what fans can expect from a certain fan-favorite Teen Wolf actor who guest stars in the episode. Plus, we've got juicy Pretty Little Liars and American Horror Story goodies to share, as well as some relationship scoop on a beloved pairing on The Office.
All that, plus spoilers on Beauty and the Beast, The Mindy Project, Awkward and more!
Gretchen R.: When is the next Girl on Top round? My voting fingers are ready!
Better stretch those mouse-clicking fingers out, because the Girl on Top competition continues later today!
Sierra: Loving all the BATB spoilers lately! Got any more?
Episode 21 is called "Date Night" and is about exactly what you think it is: Catherine and Vincent attempting to be a normal couple! "They actually go on a date! It's not in either of their apartments," executive producer Jennifer Levin teases, describing the episode as "sexy."
Alyssa: I need to know everything about Dylan O'Brien's episode of New Girl! I love him as Stiles on Teen Wolf!
Well, prepare to see O'Brien has you've never seen him before on Teen Wolf: Shirtless! Yes, he will be taking his shirt off as Jess' flashback love interest and no, you will not be disappointed. And he also sings and plays guitar. Gird your loins now!
Bella: When are you going to make with the American Horror Story spoilers???
As soon as filming begins. And, what do you know, they're just about ready to start doing that! How do we know? The casting calls for AHS season three are rolling out, and Ryan Murphy and Co. are looking for Madison, a recurring guest star (we're talking as many as nine episodes) who is a young and sexy Hollywood-actress type. She's also quite the party girl, which we all know is the gateway habit that leads to witch craft. Well, we don't know that, but we're just anxious for the new season, so we're making up storylines. You're welcome!
Lisa: Your interview with Angela and Erin from The Office made me cry! And speaking of Angela, what's going on with her in the finale?
We don't want to give too much away (and The Office bosses are keeping storylines on lockdown), but we can reveal that one of the last (or the last) scene that Rainn Wilson and Angela Kinsey shot was with each other.
Sandra: You guys have been stingy on the PLL scoop lately. Time to make it up to us!
Oh, how about a fancy new picture of our Liars dressed to paint the town red to make up for our negligence? All better? Good! We can also tell you that episode six of the new season is titled "Under the Gun." Yikes!
Hannah: The Mindy Project has become one of my favorite shows this year. Any scoop on what we can expect from Tuesday's episode?
A whole lot of bromance drama! After a falling out with Morgan over the letter he mailed to ex-wife Christina, could Danny find himself vulnerable to a bromance with…midwife Brendan?! Yes, the two do share a rather touching moment…after beating each other up! Fans can also expect to see Brendan, Mindy's ex, cross paths with Casey, Mindy's hot pastor BF. Also: Danny wears a speedo for a lot of the episode, so if that doesn't get you to tune in, look at your life and look at your choices.
Lily: I love the dynamic between Defiance's Amanda and Nolan, they make such a good pairing. Any scoop you could share about them?
Absolutely! When we talked with Grant Bowler and Julie Benz about their characters' arcs for the season, they remained pretty coy. But we managed to drag one thing out of them: Fans of Amanda and Nolan's chemistry will not be disappointed by the final episodes of the season.
Conor: Awkward is better than ever this season! Any scoop to share?
Awkward is getting its election on! Things will get pretty crazy at Palos Hills High School when it's time for student council elections and the competition will be fierce. Expect to see one freshman girl encounter the wrath of a certain upper classman when she tries to run for treasurer. Poor girl, she's going to be eaten alive!
—Additional reporting by Jenna Mullins and Tierney Bricker

Want your TV questions answered in our next Spoiler Chat? Email them to tvdiva@eonline.com or tweet at @KristinDSantos!