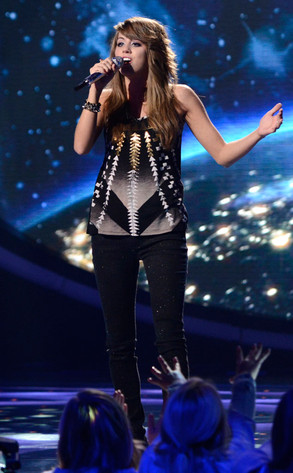 Michael Becker / FOX
If Mariah Carey and Nicki Minaj were ruffled by the news that producers had considered replacing them midseason on American Idol, they didn't let it show tonight.
From their perches at the judges' table, the two divas were business as usual during the two-hour Top 4 performance show. Mariah especially seemed to be in good spirits, taking time out from hair and makeup touch-ups during one commercial break to sign posters for a couple in the audience who are expecting a baby and plan to name her Mariah. (All together now: Awww.) Meanwhile, Nicki was seen chatting easily with Idol executive producer Nigel Lythgoe, who frequently hung out with the judges during breaks, just as he does each show.
While neither Mariah or Nicki stopped by for post-show interviews backstage, a source told E! News earlier today that producers had considered a judging-panel shakeup during season 12, which has seen a steep ratings slide. The Hollywood Reporter first reported that the popular Jennifer Lopez, who exited as a judge at the end of last season, had been considered as a possible Mariah replacement.