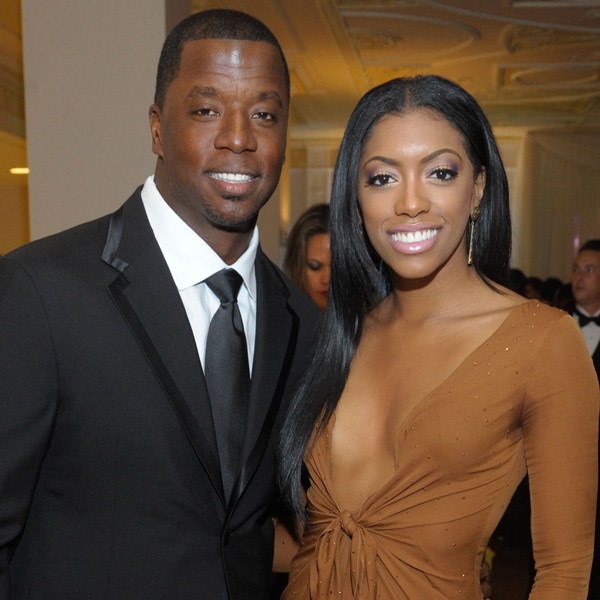 PARAS GRIFFIN/Landov
Twitter can be great resource for staying up to date on the latest news. Unless, of course, you are the news.
Such is the case for Real Housewives of Atlanta star Porsha Stewart who claims she learned of husband Kordell Stewart's divorce filing on the social media site.
"I literally was lying in bed and I looked at Twitter and it was going crazy," Porsha Stewart told ABC News. "I saw on Twitter that my husband has filed for divorce."
Unsure of their marital status, the Bravo star turned to her husband, who was down the hall in their Atlanta mansion when Porsha saw the split reports.
"It wasn't a confrontation," she explained. "It was me just simply asking my husband, 'Had you filed?' He said he thought about it and we'll talk about it later and he left for work. I had to call my attorney to find out."
The former Pittsburgh Steeler filed for divorce on March 22, citing the pair's "irretrievably broken" marriage as the reason for the dissolution of their union. Porsha has since filed her own papers, requesting both alimony and additional relief. 
"I feel heartbroken and at times I feel ashamed," Stewart continued.  "Because I put myself out there to the world as a wife and I was proud to be married and for it to end the way it did, it's almost like a failure in a way."
The breakdown of Porsha and Kordell's seemingly picture perfect marriage was heavily featured on RHOA this season as viewers watched the couple argue over having children and Porsha's potential career.
But despite Kordell's failure to appear at the RHOA reunion, the Atlanta beauty defended her man, less than two weeks before he filed, "I married him. We took an oath in front of everyone and, to me, I am going to represent that to the world, to the fullest," she said on the reunion show in front of her castmates.
Still, Porsha is standing strong in the wake of her marital woes and she's receiving support from her Atlanta costars.
"She is standing up for herself, finally," a source told E! News shortly after Porsha filed her own divorce papers.
We wish the troubled couple all the best.