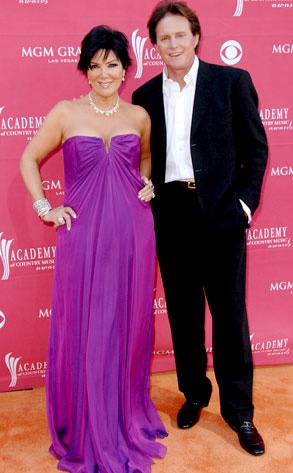 Jon Kopaloff/FilmMagic
If Kris Jenner's recent post shaming Star Magazine didn't silence those bogus divorce rumors, maybe this will!
Kris and husband Bruce Jenner just celebrated their 22nd wedding anniversary, amid circulating rumors that their marriage was on the rocks.
"Happy Anniversary Bruce!!!!" Kris wrote on Instagram. "Best 22 years I could ever have imagined...hope the next 22 is even more fabulous...I love you!"
Kim Kardashian jumped in on the celebration with an Instagram of her own. "Happy 22 year wedding anniversary to mom & Bruce!" Kim wrote. She followed that up with another throwback pic of Bruce and Kris with the caption, "Hot couple ❤ #22yearanniversary."
It was quite the weekend for reminiscing for the couple, as the Ryan Seacrest with the Kardashians: E! News Presents special had Bruce, Kris and the rest of the family taking a look back at past seasons of Keeping Up with the Kardashians.
You can catch Bruce and Kris in their 22nd year of wedded bliss when Keeping Up with the Kardashians season eight premieres on Sunday, June 2 at 9/8c!