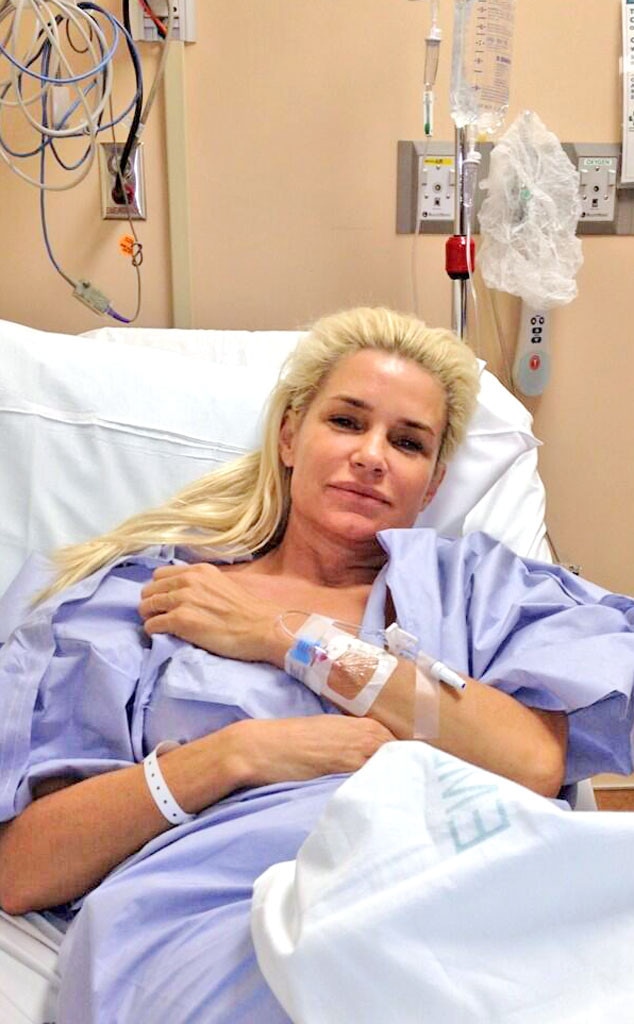 Twitter
Even the extra-healthy fitness guru Yolanda Foster can take a hit from time to time.
The Real Housewives of Beverly Hills star, who was famous for waking up early to get in a workout and attempted to get the other ladies on the master cleanse, underwent surgery on Friday to remove a port in her arm that was being used to treat her Lyme disease, a bacterial infection obtained from tick bites.
"❤Exciting day, getting my port out, xoxo," Foster tweeted while at the hospital. Yes, she said exciting day. Yes, she still looks that good. 
Yolanda also tried to spread some positivity to those who are struggling with the same disease, tweeting, "❤Love & Light 4 my fellow Lymies battling this brutal disease. I am ur voice and I will bring d awareness u deserve!"
The reality star announced she was going to have a port—a medical device placed under the patient's skin to to more easily administer frequent drug injections and draw blood for tests—implanted back in December, telling fans on Twitter, "need to Start my treatment for Neuro Borellia Lyme disease, can't wait to get my energy back."
And despite the casting shake-up on the Real Housewives of Beverly Hills, the Bravo star said she's ignoring the drama and focusing her attention on getting better, "You know I am still recovering from my Lyme disease and that's really my most important thing on my mind now is to hopefully have my brain recover 100%," she told E! News at OK! Magazine's So Sexy Party last week.  
Foster revealed on Watch What Happens Live in January that she became aware of something wrong while watching episodes of RHOBH. 
She explained that during a scene with Taylor Armstrong, she "had all these words floating in my brain and couldn't make a sentence from it. That was the day I realized I was really sick and I needed help. I'm starting to see the light, and my brain is coming back."
Here's to a speedy recovery!
—Additional reporting by Alyssa Toomey