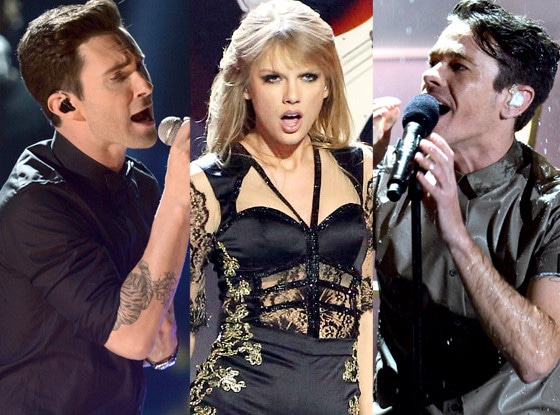 Kevin Winter/Getty Images; Dave J Hogan/Getty Images
What do Maroon 5, Taylor Swift and Fun. have in common?
All three artists are tied with 11 nominations apiece to lead all finalists for the 2013 Billboard Music Awards!
Coming in close behind them is Rihanna, who'll compete in 10 categories this year. She'll face off against the threesome for the Top Artist prize. While "Call Me Maybe" singer Carly Rae Jepsen snagged 9 nods, including Top Pop song, and will compete with PSY, Gotye, The Lumineers and One Direction for Top New Artist.
In one of the evening's highlights, Prince will also be honored with the Billboard Icon Award.
Billboard bases its nominations on fan interactions with music, including album and digital single sales, radio airplay and touring, as well as streaming and social interactions on Facebook, Twitter, YouTube, etc.
This year's kudofest, hosted by Tracy Morgan, will air live on ABC from Las Vegas' MGM Grand on May 19.
Below is a roundup of some of the biggest categories. For the full list, click here.
Artist
Justin Bieber
Maroon 5
Rihanna
Taylor Swift
One Direction
Hot 100 Song
Fun., "Some Nights"
Gotye feat. Kimbra, "Somebody That I Used to Know"
Carly Rae Jepsen, "Call Me Maybe"
Maroon 5, "One More Night"
Maroon 5 feat. Wiz Khalifa, "Payphone"
Billboard 200 Album 
Adele, 21 
Mumford & Sons, Babel
Taylor Swift, Red
One Direction, Up All Night
One Direction, Take Me Home 
Duo/Group
Coldplay
Fun.
Maroon 5
Mumford & Sons
One Direction
New Artist 
Gotye
Carly Rae Jepsen
PSY
One Direction
The Lumineers 
Top Male Artist
Jason Aldean
Justin Bieber
Drake
Flo Rida
Bruno Mars
Top Female Artist
Adele
Carly Rae Jepsen
Nicki Minaj
Rihanna
Taylor Swift
Hot 100 Artist
Flo Rida
Fun.
Maroon 5
Rihanna
Taylor Swift
Billboard 200 Artist
Adele
Justin Bieber
Mumford & Sons
One Direction
Taylor Swift
Digital Songs Artist
Flo Rida
Fun.
Carly Rae Jepsen
Maroon 5
Taylor Swift
Radio Songs Artist
Flo Rida
Fun.
Maroon 5
Nicki Minaj
Rihanna
Social Artist
Justin Bieber
One Direction
Katy Perry
Rihanna
Taylor Swift
Streaming Artist
Baauer
Drake
Nicki Minaj
PSY
Rihanna
Pop Artist
Adele
Justin Bieber
Maroon 5
Bruno Mars
One Direction
R&B Artist
Chris Brown
Alicia Keys
Ne-Yo
Rihanna
Usher
Rap Artist
Drake
Flo Rida
Nicki Minaj
Pitbull
PSY
Country Artist
Jason Aldean
Luke Bryan
Hunter Hayes
Taylor Swift
Carrie Underwood
Rock Artist
Coldplay
Fun.
Gotye
Mumford & Sons
Bruce Springsteen
Latin Artist
Don Omar
Prince Royce
Jenni Rivera
Shakira
Romeo Santos 
Dance Artist
David Guetta
Calvin Harris
Madonna
Skrillex
Swedish House Mafia