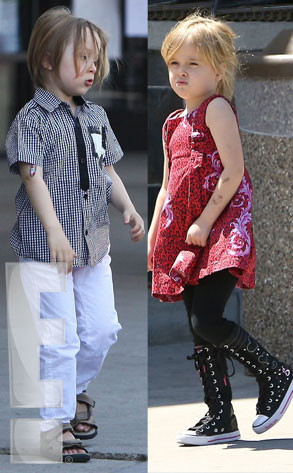 X17Online
Brangelina's youngest are sure growing up quickly!
Yes, those children (not even toddlers anymore!) are Vivienne and Knox Jolie-Pitt. While mama Angelina Jolie ran some errands in Beverly Hills Sunday, her and Brad Pitts adorable 4-year-old twins had some fun of their own!
Viv, wearing some lace-up Converse boots, black leggings and a super cute red jumper was sporting some cool temporary tattoos and nail polish. Knox, on the other hand, looked like a miniature version of his famous father in a gingham shirt, white pants and sandals.