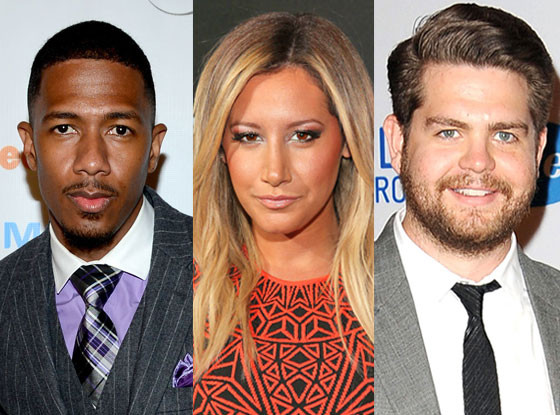 Michael Buckner/Getty Images For March Of Dimes, Andreas Branch/PatrickMcMullan.com/Sipa USA, Christopher Polk/Getty Images
Ever dream of seeing hot WWE female wrestlers get in a ring with Nick Cannon, Jack Osbourne, Ashley Tisdale and Joel McHale?
OK, well, that's totally happening...if the aforementioned "ring" is actually E!'s new programming slate being unveiled today.
The cable network is rolling out an intriguing slate of new projects, including an unscripted series following the lives of seven WWE rising starlets (think Stacy Keibler pre-George Clooney), the anticipated new series following music sensation The Wanted, a fan-driven talk show with überfan Ross Mathews, an innovative new interview show produced by Ashley Tisdale, a new "investigative" series from The Soup hosted by Joel McHale, a stereotype-busting show from producer Jack Osbourne and a look at Nick Cannon making over his grandma's house because...why not?
In all, there are six new unscripted series, 10 specials and eight scripted series on E!'s programming slate, which will be presented later today to advertisers in New York at E!'s Upfront.
And hey, TV lovers, ever heard of a power duo named Josh Schwartz and Stephanie Savage? The OC, Chuck and Gossip Girl ring any bells? Well, E! is also expanding into the scripted arena with new projects from Schwartz and Savage (a Hollywood Hills drama called Laurel Canyon), as well as the creative writing forces behind such scripted hits as Grey's Anatomy, Rain Man, The Good Wife, The Walking Dead, Parenthood and more. Kevin Spacey is also an executive producer on Fortunate Boy, a drama series about a police informant.
Check out the full rundown of what's ahead on E!:
NEW SERIES
The Wanted Life (Sunday, June 2 at 10:30pmET/PT; moves to regular timeslot starting Sunday, June 9 at 10:00pmET/PT)
This new half-hour series will chronicle the personal and professional lives of the edgy pop music powerhouse, The Wanted, who has already taken the world by storm.  Viewers will see an unfiltered look inside the world of the chart-toppingUKpop band as they head to sunnyCaliforniato record their third album, gear up for their new US & Europe tour later in 2013 and solidify their top ranking on American pop music charts, along with their surprising dynamics and interpersonal relationships.  Produced by Ryan Seacrest Productions, Scooter Braun Projects and Global Talent TV.
Total Divas (Sunday, July 28 at 10 p.m.)
Revealing the real women behind the WWE Divas for the first time, this new one-hour series proves that the drama is even bigger when the sexy superstars step outside the ring. Total Divas goes inside the personal lives of these glitzy, glamorous celebrities who entertain sold-out crowds in arenas around the world and are adored by millions of fans. Total Divas is produced by WWE and Bunim-Murray Productions. Jon Murray, Gil Goldshein, Jeff Jenkins and Russell Jay are executive producers for Bunim-Murray Productions.
Pop Innovators (July)
This new series showcases the most influential names in pop culture in their own words. We love them for what they bring to our world, and how they have helped define pop culture and captured the collective zeitgeist. These are the people who, as leaders in their respective fields, have taken their fame and gone in new directions to become influencers across a wide range of topics, and who inspire others to do the same. The first episode of Pop Innovators will offer an in-depth look at the life and career of Will.i.am from his point of view and will also feature interviews with other celebrities that he's influenced most.
Love and Other Contact Sports: Eric and Jessie (Late summer 2013)
From Khloé & Lamar to Kendra & Hank, E! has followed the romantic celebrity relationships of popular athletes and their gorgeous companions for years. The new Love and Other Contact Sports franchise will take viewers inside the confines of even more celebrity/athlete romances starting with country/pop singer Jessie James and her fiancé, Denver Broncos wide receiver Eric Decker whose wedding is quickly approaching. The series will chronicle the sexy young couple's road to the altar as they juggle careers, relationships, family and more. Currently residing in their Denver dream home, they share an ambition to succeed, a charmingly fun and unfiltered outlook on life, and most of all, a red-hot attraction for each other. Produced by Shed Media U.S.
Hello Ross (working title) (Fall 2013)
As the ultimate pop culture fan forum, this new interactive talk show is hosted by the super fan himself, Ross Mathews. Fans will have the unique opportunity to share their opinion on all the latest in pop culture, debate the most buzzworthy topics and come face to face with their favorite celebrities. From Borderline Amazing Productions.
The Trend (Fall 2013)
This news series will feature a team of experts and celebrity contributors discussing all things fashion, beauty and design.
NEW SPECIALS
Blinging Up Baby (Thursday, May 2 at 10 p.m.)
There is nothing more buzzworthy in Hollywood these days than celeb parents and their star tots who fill the pages of weekly magazines. In this one-hour special hosted by Melissa Rycroft, E! explores how the stars are heralding stork visits, from preparing luxurious nurseries, to exotic and ultra-pricey "babymoons," to dazzling "push presents," outrageous celebrity baby and toddler gifts, and more. If it is hot in the world of celebrity mommyhood, you'll find out about it here. From Comcast Entertainment Studios.
Nick Cannon's Big Surprise (Thursday, May 9 at 10 p.m.)
Sexy actor, singer and TV personality Nick Cannon has a big surprise. Grateful to his grandparents who helped raise him, Cannon shows his appreciation with a surprise home makeover. Through the process, the star will share childhood memories, photos and videos as the audience gets an intimate look back at his life. But will his highly opinionated grandmother, actually like what he does with her place? There's only one way to find out. Produced by Entertainment One.
Holly Has A Baby (May 12 at 9 p.m.)
Holly Madison just took on the biggest role of her life when she became a mommy to a baby girl she named Rainbow Aurora Rotella. In this one-hour Mother's Day special, viewers will follow Holly to the hospital for the big event, and share in all she did to prepare for her new arrival with boyfriend Pasquale Rotella. Then, we're invited home with the trio as they share with us exactly what the future holds for Holly and her new family, including the possibility of wedding bells. From Comcast Entertainment Studios.
The Untold Story: Jason Derulo (Tuesday, May 14 at 10 p.m.)
Simon Cowell said he would be huge, Lady Gaga said he's "a freakin' superstar" and Jordin Sparks calls him boyfriend. He was well on his way to the top when an injury sidelined his career, and could have nearly ended his life. This half-hour special is a turbulent ride with Derulo as he battles his way back from injury. With never-before-seen footage and exclusive behind-the-scenes access, we'll uncover the real man behind the persona of music royalty's newest member. From Comcast Entertainment Studios.
Ryan Seacrest with The Wanted: An E! Special (Monday, May 27 at 10:30 p.m.)
Days before the premiere of their highly anticipated new E! series, Seacrest is sitting down with the bad boys of pop, and no topic is off limits. Discussing their music, rock star lifestyles and their much-buzzed-about personal lives, The Wanted open up to Seacrest in this new one-hour special.
Bigger, Badder Celebrity Feuds (Tuesday, May 28 at 10 p.m.)
The Hatfields and McCoys had nothing on some of Hollywood's biggest and most explosive feuds, and this one-hour special pulls out all the stops to reveal the gritty details of what went down between Chris Brown and Frank Ocean,Halle Berry's ex and her current squeeze, Kelsey and Camille, and many, many more. From Comcast Entertainment Studios.
E! Special: Brooke Burke (June 2013)
Giuliana Rancic is sitting down with the sexy actress and TV personality who has helped make Dancing With the Stars one of today's biggest television sensations. Opening up about her career, family and personal life, Burke shares her ups, downs and everything in between with Giuliana from her home in Los Angeles.
Secret Societies of Hollywood (Late summer 2013)
Beyond the red carpet and behind the security gates lies a forbidden Hollywood that only the rich and famous know about … until now. Secret Societies of Hollywood is a two-hour documentary that will expose the cults, cabals and underground clubs that exist in today's entertainment industry. From Prometheus Entertainment.
50 Hours with 50 Cent (Fall 2013)
What is it like to be 50 Cent? One lucky super fan gets to find out. This special captures 50 hours with 50 Cent as one of his biggest fans gets to spend exactly that amount of time with him. Viewers will experience over two full days with this iconic rapper, entrepreneur and businessman as he enters global promotional mode leading up to the release of his newest album.
Inner Circle (Fall 2013)
A new experiment in storytelling from executive producer Ashley Tisdale, these specials will feature celebrities picking a member of their inner circle (a trusted friend, family member or close confidant) to tell their real story and to ask the questions. More conversation than interview, it's an emotionally charged journey where the celebrities let their guards down, open up and have fun with someone from their "inner circle." From Blondie Girl Productions and Relativity Television.
NEW UNSCRIPTED PROJECTS IN DEVELOPMENT (working titles):
Young Sonoma
This series chronicles the personal and professional lives of premier families at the top of their game in world renowned wine country, Sonoma Valley.  Featuring Envolve Winery's Ben Flajnik (The Bachelor), Mike and Kate Benziger, Danny and Collette Fay, and B.R. Cohn Winery's Vallerie and Tasha Cohn, the series goes inside the day-to-day drama that comes from living in a small town, working with friends and family, as well as being local and national celebrities. From Mandt Bros Productions.
Queens Are Wild
Docusoap that goes inside the high-stakes world of gambling and follows four of the top female poker players as they live together, travel the world and compete to win millions. From Tollin Productions, Inc.
Palazzo Riggi
Through the eyes of the outrageous family who lives there and the staff that run it, this new docusoap takes viewers inside a unique, luxurious world filled with eccentric personalities and gives viewers a glimpse into a jaw dropping, elaborate 24,000-square-foot family estate in upstate New York that boasts an authentic English pub, Balinese wellness spa and perfectly heated lawn that is designed to keep the paws of the family's 35 dogs warm year-round.  From AEP Media and Machete.
Flash
This self-contained competition elimination series pits up-and-coming photographers against one another. In each episode, the photographers are given a real world challenge with real clients from the world of pop culture, who expect an amazing photo to sell their brand, talent or idea. Each week the winning photographer will get the exposure that could help launch their career. From Super Delicious.
Sex & Real Estate
Set in Miami, this new docusoap follows the personal and professional lives of a group of hot, successful real estate agents at the top of their game as they juggle a world where business always mixes with pleasure. From FremantleMedia North America and Purveyors of Pop.
The Soup Investigates
The Soup Investigates is a new spinoff series of E!'s popular comedy franchise The Soup that will answer all the questions that pop culture fans never thought to ask, and then some. How does that rose get from the grower's field to The Bachelor's hand just in time for the all-important rose ceremony? What is life like inside the fascinating world of the Mother Duckers, the families who make their living creating duck callers who weren't cast in Duck Dynasty? Host Joel McHale and our investigative reporters will be working around the clock to get to the truth, or at least a very plausible facsimile thereof.
NEW TOPICAL / COMEDY PROJECTS IN DEVELOPMENT (working titles):
James Davis Show
Sketch comedy show parodying a wide range of pop culture subjects and personalities starring actor-comic-writer, James Davis. From Funny or Die Media, Inc.
White People Can't Dance
From executive producer Jack Osbourne and Vin Di Bona, this tongue-and-cheek format show features a team of experts who analyze some of the more outrageous stereotypes perpetuated by pop culture. Each episode our team will put multiple stereotypes to the test to determine which are fact and which are fiction. From FishBowl Worldwide Media and Schweet Entertainment.
Secrets & Lies
Secrets & Lies is the game show, based on the classic parlor game three truths and a lie, that tests pop culture fans' knowledge of their favorite celebrities while revealing shocking secrets about the stars we think we know and love. From Shine America's format label Ardaban.
NEW SCRIPTED PROJECTS IN DEVELOPMENT (working titles):
Laurel Canyon
In this drama from executive producers Josh Schwartz (The O.C., Gossip Girl, Chuck) and Stephanie Savage (The O.C., Gossip Girl, Carrie Diaries) and executive producer/writer Karen Croner (Admission, One True Thing), a young woman returns to her dysfunctional, extended family in Laurel Canyon with her son after hearing her rock-star legend father has passed away. Based on Croner's experience of growing up in the Hollywood Hills, the project is from Schwartz and Savage's Fake Empire in association with Warner Horizon Television. Fake Empire head of television Len Goldstein (The Carrie Diaries) also serves as executive producer.
The Stand-In
A darkly psychological re-telling of The Prince & the Pauper set behind the scenes of one of Hollywood's most famous actresses, who, tired of the spotlight, runs away in search of a normal life. Desperate, her family secretly hires a look-a-like to step into the star's glamorous world and high profile career -- only to have the doppelganger slowly lose herself in the process of becoming someone else. From executive producers Ryan Seacrest, Nina Wass and Adam Sher, Ryan Seacrest Productions, Universal Cable Productions and writer Craig Chester.
Songbyrd
From writer Krista Vernoff (Grey's Anatomy, Private Practice, Shameless), a young, prolific songwriter of some of the best love songs struggles to find love in her personal life after her inspiration is revealed to be a lie. Featuring the songs and experiences of Grammy winner Diane Warren, who executive produces with Craig Zadan & Neil Meron (The 2013 Academy Awards, Chicago, Smash) and Vernoff. From Universal Television and Universal Cable Productions.
Expectations
From writer Ron Bass (Oscar winning writer of Rain Man, Sleeping With the Enemy), inspired by the classic Charles Dickens work, a soap about a morally corrupt family in the diamond business set in New York City. Executive produced by Oscar winner Dan Jinks (American Beauty, Milk). From CBS Television Studios.
The Shoreline
The golden child of a small coastal town in South Carolina returns home to see that a major Hollywood prime time soap, The Shore Line Yacht Club, is the biggest employer in town. An enormous class divide separates the cast and producers from the townspeople, yet their lives are now continuously and irrevocably intertwined – for better or for worse. From writer Carolyn Ingber and executive produced by Becky Hartman Edwards (Switched at Birth, Parenthood). From Fox Television Studios.
Dirty/Pretty
From Keith Eisner (The Good Wife, Law & Order), Jason Markarian and John Mirabella, a dark comedy centering on a blue collar guy from south Boston who gets scouted to be a model in Miami. Life gets turned upside down when his two best friends join him and see his new life as a way to expand their criminal activities. Gale Anne Hurd/Valhalla Entertainment will act as executive producer. From Universal Cable Productions.
Fortunate Son
Framed for a drug deal by a friend from his hard-partying days, society golden boy Michael Baron becomes a criminal informant and is at the mercy of the police. He bounces between his privileged west side of Los Angeles existence and the case he is forced to work in the slums. But his dark past gives Michael some leverage over his fate, and he makes a dangerous deal that could clear his name. Or get him killed. From writer and co-executive producer Joey Falco and executive producers Kevin Spacey, Michael DeLuca and Dana Brunetti. From Universal Cable Productions.
The Royals
Part fairy tale, part cautionary tale, this contemporary family ensemble is steeped in all of the regal opulence of the British Monarchy and framed by Willian Shakespeare's Hamlet. It's a tale of men and women corrupted by power, wealth and desire while looking at the nature of celebrity from a Royals' point of view. Executive produced and written by Mark Schwahn (One Tree Hill) and executive produced by Brian Robbins and Joe Davola (One Tree Hill, Smallville). From Lionsgate.