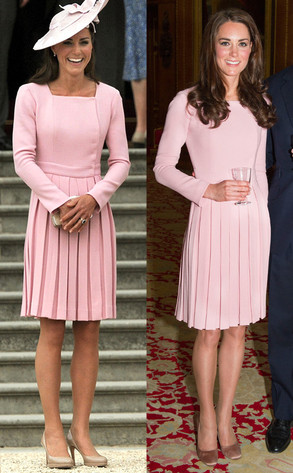 Anthony Devlin/WPA Pool/Getty Images; Arthur Edwards - WPA Pool/Getty Images
So nice they wore it twice!
It's not all that surprising when we see two stars in the same outfit. It's so common in fact, that Bitch Stole My Look gets updated daily. But it is rare to see a star in the same outfit more than once.
Sure, celebrities often wear the same coat, shoes and totes, but only a few stars dare to wear a dress two times on the red carpet.
Of course, Michelle Obama famously bucked the wear-once trend. But she's not the only one. Kate Middleton, Olivia Palermo and more and putting an end to the don-and-ditch rule.