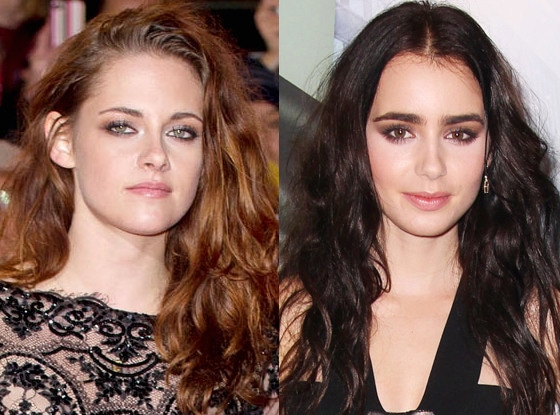 Nick Sadler/startraksphoto.com; Dave Hogan/Getty Images
Obviously, Lily Collins wasn't meant to play Bella Swan. But the British-born beauty did try!
The star of the upcoming The Mortal Instruments: City of Bones revealed in an interview with CraveOnline that she auditioned for the Twilight role that rocketed Kristen Stewart to stardom.
"This was many years ago," Collins said of trying out for Bella. "I was new on the scene, new at auditioning and it was always kind of this, 'What's going to happen?' everyone in the waiting room waiting for you. One of those anxious days as a young actor."
Alas, she didn't say whether the auditioning process ever included face time with the inevitable Edward Cullen.
"I remember reading scripts for Beautiful Creatures and all those," Collins added. "I think every young actor or actress in Hollywood starts to read some of the same material but I think everything happens for a reason and everyone who gets the roles they get were meant to. I'm a firm believer in that."
We imagine that the millions of Twilight fans would agree.
But Collins and Stewart remained on each other's radar and their paths converged again when both ended up playing Snow White in updates of the classic tale that came out within two months of each other last year.
"We've laughed about the fact that people think we're rivals because to us they're so different," Collins told E! News before Mirror Mirror came out at the end of March 2012, noting the different vibe of her film compared to Stewart's Snow White and the Huntsman.
"We've always been aware of each other and I'm excited to see what Kristen does...I'm excited for her and vice versa."
Collins also told Crave that The Hunger Games was "definitely" on her mind when casting started for that hugely successful film as well.
"But [Jennifer Lawrence] is just perfect as Katniss and I'm so excited for her and happy for her," she said.
"It's funny because a lot of us are friends so if one of us doesn't get it, a friend gets it and it's nice because everyone can be supportive about it."
May her good attitude be ever in her favor.