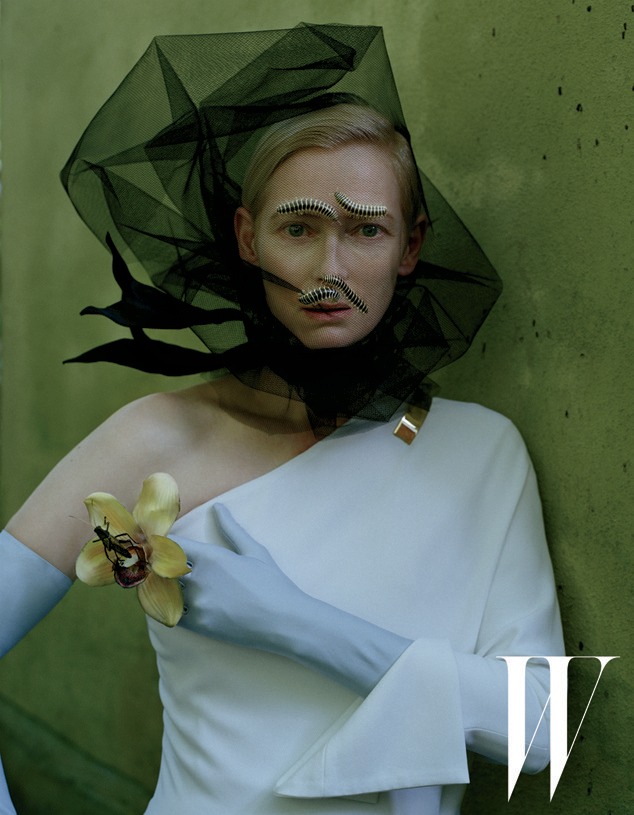 Tim Walker/W Magazine
Tilda Swinton rocks some pretty curious accessories in the latest issue of W magazine: centipedes. 
That's right, the 52-year-old strikes a pose with the creepy crawlers, which were strategically placed over her face—yes face!—during the shoot to look like facial hair.
The bizarre props were part of Swinton and photographer Tim Walker's plan to create a series of dreamlike images inspired by artists like Salvador Dalí. 
But if you're guessing Swinton got her one-of-a-kind look thanks to a little Photoshopping, think again!
"Though they may look as if they were mechanically placed, we waited hours for these centipedes to crawl into their meaningful positions, decking me out with eyebrows and mustaches," Swinton revealed. " 'Ceci n'est pas une moustache,' as Magritte might have put it."
Talk about dedication! But would you expect anything less from the artsy woman, who napped in a glass box as part of a recent exhibit at New York City's MoMA, and spawned the oh-so-popular Tildaing trend as a result?
Somehow we feel adorning your face with centipedes won't catch on quite as quickly.  
What do you think of Tilda's W pic?