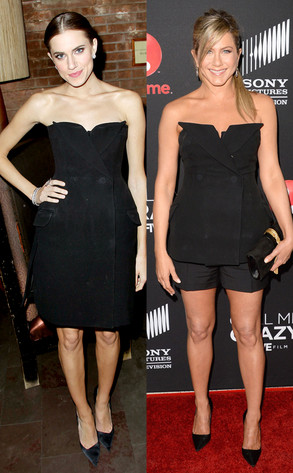 Marion Curtis/Startraksphoto.com; Jason Merritt/Getty Images
Which of TV's most famous best friends wore it best?
The ensemble is Christian Dior, though Girls star Allison Williams rocked the mini dress version while Friends alum Jennifer Aniston opted for short-shorts.
It pains us to say this, but Williams may win this one. Aniston's take on the suit look comes across more as a sexy tube top paired with messy boxer shorts.
Of course, if it's Jen's gorgeous blonde wisps vs. Allison's too-tight bun, we're #TeamAniston all the way. But on the fashion front, our vote sways the other way.
Now, what's your take?