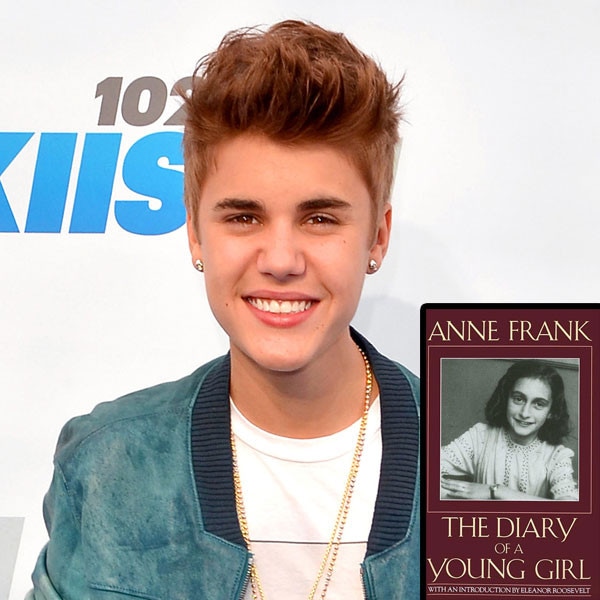 Courtesy of Bantam; Tony DiMaio/startraksphoto.com
Maybe Justin Bieber wasn't too far off in expressing hope that Anne Frank would have been a Belieber.
That's what the iconic diarist's stepsister thinks, anyway, saying in an interview with The Telegraph in London that the fuss over the teen star's comment is "so childish."
"She probably would have been a fan. Why not?" wondered Eva Schloss, whose stepfather was Otto Frank, Anne's dad and the only member of the group that hid from the Nazis in a secret annex of an office building in Amsterdam (as chronicled in Anne Frank: The Diary of a Young Girl) to survive the Holocaust. Eva and Anne had been friends prior to the war, and Anne's father married Eva's mother following World War II.
"He's a young man and she was a young girl, and she liked film stars and music," Schloss said. "They make a lot of fuss about everything that is connected with Anne Frank."
To be fair, "they" make a lot of fuss about everything connected with Justin Bieber, too.
The 19-year-old was rapped on his proverbial knuckles after visiting the Anne Frank Museum in Amsterdam and writing in the museum guestbook: "Truly inspiring to be able to come here. Anne was a great girl. Hopefully she would have been a belieber."
The shadowboxing probably didn't help, either.
But a source told E! News in response to the to-do over Bieber's seemingly innocent musing: "One of the guides pointed out that Anne was a big fan of pop culture of her time and that she might have been a fan of his, which led to what he wrote."