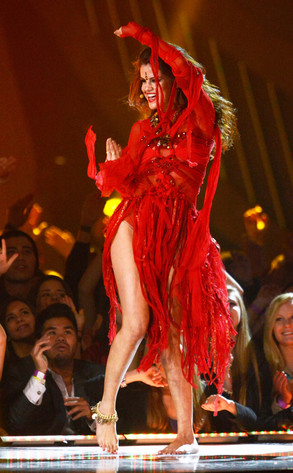 Kevin Mazur/WireImage
Dare we call it Bindigate?
The traditional forehead decoration that a Bollywood-inspired Selena Gomez wore while performing "Come & Get It" at the MTV Movie Awards on Sunday has a Hindu group demanding an apology from the Spring Breakers star.
"The bindi on the forehead is an ancient tradition in Hinduism and has religious significance," Rajan Zed, leader of the Universal Society of Hinduism, said in a statement to WENN. "It is also sometimes referred to as the third eye and the flame, and it is an auspicious religious and spiritual symbol.