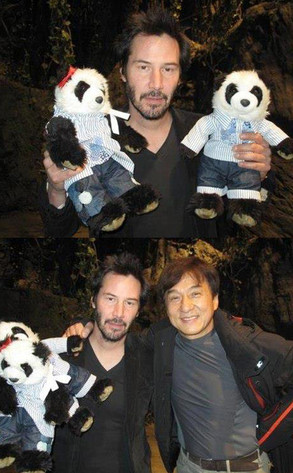 Courtesy of Facebook
Keanu Reeves loves pandas! And Jackie Chan loves posting pics of Keanu Reeves loving pandas! And pandas love Rush Hour (though they're split between whether they love Jackie Chan or Chris Tucker more). Pandas did not love The Lake House.
Jackie (who goes by "成龍 Jackie Chan" on Facebook) posted this photo today with the caption, "Keanu and I both love pandas!"
See, we told you.
This is also apparently what Keanu Reeves looks like when he's...happy? Oh geez. We almost prefer sad Keanu and his pigeons (Keanu does not love pigeons).
Though Jackie posted this picture mere hours ago, it appears that it's actually from 2011 when the two were visitng China. The pandas in the photograph are not real but are Jackie's stuffed toys La and Zy, who he photographed on his travels around the world.