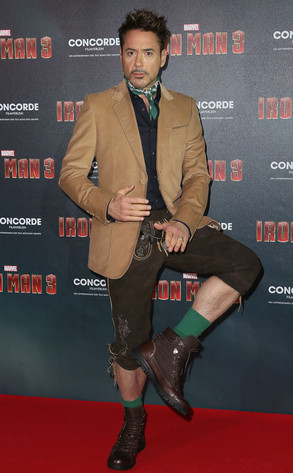 Dominik Bindl/Getty Images
Robert Downey Jr. is trading in his Iron Man suit for a pair of custom lederhosen. Don't ask questions, just soak it all in, ladies and gentlemen.
The movie star arrived at the official Iron Man 3 photocall in Munich alongside costar Gwyneth Paltrow in a highly decked-out version of Bavaria's traditional leather man breeches. I guess that's one way to pay homage to your visiting country.
Striking a fierce pose, RDJ flaunted his three-quarter-length lederhosen, which came complete with gold stitch detailing and an embellished chain. The actor then accessorized this costume with green midcalf socks and a green kerchief tied around his neck.