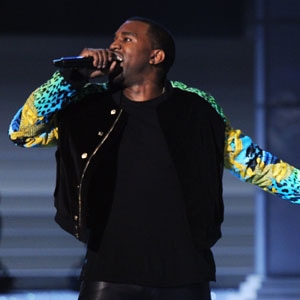 Jamie McCarthy/Getty Images)
Did Kanye West mine another artist's work for "Gold Digger" and forget to tell anybody?
That's what the children of late Thunder & Lightning musician David Pryor claim in a multimillion-dollar copyright infringement lawsuit filed this week against West, in which they allege that he wrongfully sampled their dad's "get down" chants from the 1974 tune "Bumpin' Bus Stop."
"Gold Digger," which most prominently borrowed from Ray Charles' "I Got a Woman," was a single off of West's 2005 album Late Registration—and Pryor's kids admit that the timing of their complaint seems a bit off.
"The complaint makes clear that 'Gold Digger' was released in 2005 while David Pryor was in a convalescent hospital suffering from a host of severe mental and physical disabilities, including senile dementia, cerebrovascular disease, prostate cancer, epilepsy, and diabetes," attorney Courtney M. Coates said in a statement obtained by E! News.
"He died in May 2006 from cerebrovascular disease without having any knowledge that his voice was being exploited by other artists for commercial profit. After David Pryor died, [daughter Trena and son Lorenzo] discovered Pryor's song in late 2010, but they could not secure rights to the song until Pryor's estate was probated and a final determination of heirs was made in 2011. In 2012, the family obtained all of the necessary information required to file this substantial lawsuit against Kanye and others."
Coates states that the family is aware of 50 instances of Pryor's vocals being sampled in recordings and they are "putting all record companies on notice that they will be sued if they continue to steal and exploit David Pryor's vocal performance in 'Bumpin' Bus Stop' without the family's permission."
The lawsuit, filed in L.A. Superior Court, asked for "millions of dollars" in damages from West, Roc-A-Fella Records, UMG's Island Def Jam and other corporate defendants, as well as an injunction preventing further unauthorized use of David Pryor's work.
Listen to the two tracks and tell us what you think: