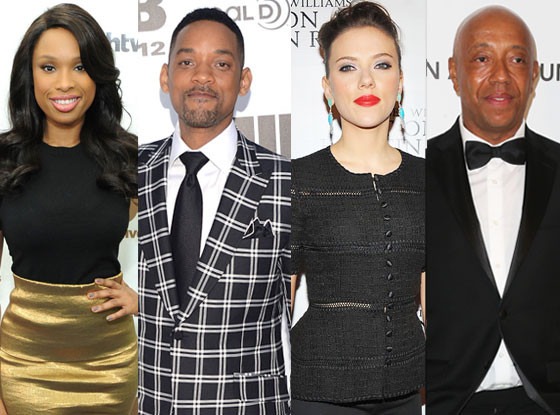 Stephen Lovekin/Getty Images, Craig Barritt/Getty Images, Theo Wargo/WireImage, Frederick M. Brown/Getty Images
Now this is a group effort.
More than 100 celebrities including Jennifer Hudson, Will Smith, Scarlett Johansson, Susan Sarandon and Nicki Minaj signed an open letter that rap mogul Russell Simmons and other civil-rights leaders sent to President Barack Obama on Tuesday urging him to reform the nation's drug laws.
The missive, posted on globalgrind.com finds the coalition of entertainers lobbying for an end to the draconian laws and prison sentences that have resulted in more than 2.3 million citizens behind bars—not to mention one in every 15 African-American men—while failing to stem the availability of illegal drugs in the United States.
"It is critical that we change both the way we think about drug laws in this country and how we generate positive solutions that leave a lasting impact on rebuilding our communities," said Simmons, noting that the U.S. incarcerates more people than any nation on earth.
Instead, the group wants a saner criminal justice system which would see rehabilitation for nonviolent drug offenders replacing prison terms. They also are asking Obama to form a panel to address clemency requests and support a reform allowing judges to ignore overly harsh mandatory minimum sentences for relatively minor drug offenses.
In an op-ed in The Huffington Post, Simmons added that in order to advance the strategy, he and his fellow activists are kicking off a "cyber march on Washington" today to rally supporters to the cause. Additionally, the letter is timed to coincide with tonight's premiere on PBS of The House I Live In, Eugene Jarecki's critically acclaimed documentary about America's failed drug war.