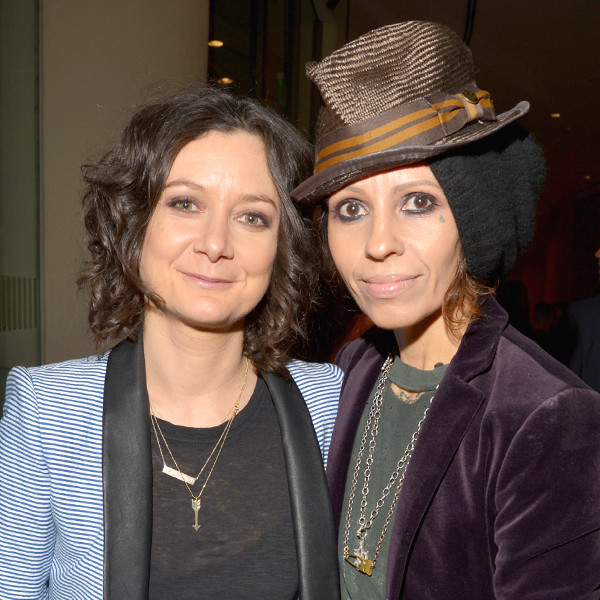 Lester Cohen/WireImage
What's going on with Sara Gilbert and Linda Perry? How about a wedding!
The Talk cohost announced on Monday's edition of the afternoon gabfest that she is engaged to former 4 Non Blondes singer Linda Perry.
And according to Gilbert, it was quite the musical proposal.
The 38-year-old ex-Roseanne star told viewers that she and the 47-year-old rocker recently went for a picnic in a Los Angeles park when Perry popped the question by singing The Cure's "Love Song," backed by a guitar player and brass band she had recruited.
"We go to a park, and we have food and we're eating it, it's really sweet and there's this guy sitting playing guitar, like a street musician, and he starts playing this song that we love," Gilbert recalled. "I'm like, 'Oh, that's so weird, this is so magical and amazing.'"
She continued: "So that ends, and she's like, 'Oh, I'm gonna ask him to play this other song,' but this other song is really obscure and this guy wouldn't know it, but magically he knows it."
The next thing Sara knew, she said, their fellow picnickers pulled out instruments and joined the guitarist to serenade the couple with "Love Song." At which point, Linda put on a series of T-shirts that each had one word, eventually forming the question "Will You Marry Me?"
A giddy Gilbert said yes, but not before she got another surprise: Their mothers and a few close friends, who were lying in wait, appeared to help celebrate the occasion. And to top it off, Perry had English crooner John Waite walk up and start singing his classic '80s hit, "Missing You."
"It's like the most amazing proposal ever," Gilbert told her copanelists.
The actress's big sis, Melissa Gilbert, readily agreed, as she tweeted, "Best proposal story ever! @Thesaragilbert and @RealLindaPerry."
No word when the couple will tie the knot. Gilbert and Perry first began dating in 2011, and last year the singer-songwriter-turned-producer told E! News their romance was "awesome" and that they "just instantly connected."