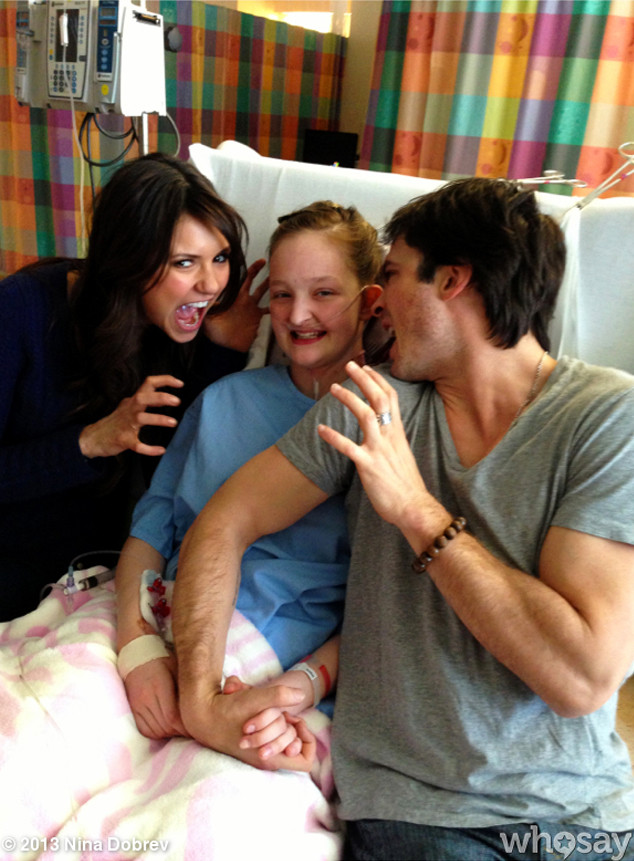 Nina Dobrev/WhoSay
Ian Somerhalder and Nina Dobrev may have made this girl's life so far—but, happily, 14-year-old Kayla Miller is going to have much more time to top the experience of meeting a couple of her favorite vampires.
"Sending congratulations to @kayla_0507 and her family. We all secreted this. Her life has been saved. I'm smiling ear to ear," Dobrev wrote on WhoSay today after she found out that Kayla had undergone a successful lung transplant.
She and her Vampire Diaries costar visited Kayla in the Toronto hospital where she was awaiting the livesaving surgery last weekend. Luckily no shortness of breath ensued when Somerhalder leaned in close for a mock-nibble.
"Id like to ask everyone who reads this to send out positive energy to @Kayla_0507 tonight," Dobrev wrote on Wednesday. "Just take one moment of your time to think of her and put it out there in the universe. Think happy thoughts and smile :) The secret.. We can make anything happen."
Somerhalder tweeted yesterday: "Support @Kayla_0507 & her dream to run w/ the Run aLung--it takes place May 11 in Cambridge on Bob McMullen trail! http://runalung.ca."
Kayla's mother wrote on Facebook that her daughter had received a new left lung and "will be able to function as a normal 14 year old girl... We will forever be grateful from our friends, family and community but most of all the donor family."