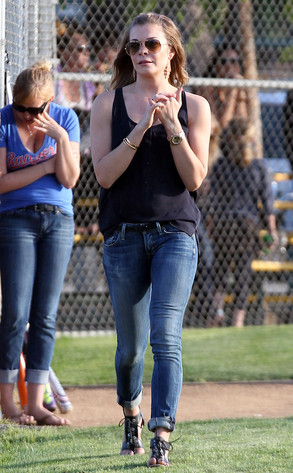 Goodwin/Dmac/FAMEFLYNET PICTURES
LeAnn Rimes is enjoying this whole stepmom thing.
Yesterday, the country crooner rooted for one of husband Eddie Cibrian's sons at the ol' ballgame—T-ball game, that is.
She certainly looked like she was pulling hard for her stepson on a beautiful day for baseball in Los Angeles. No word on whether Cibrian's boy hit one of those classic dribblers-that-goes-between-the-legs-and-turns-into-a-home-run that are the bread-and-butter of T-ball. Also no confirmation on whether or not Rimes brought any of her infamous snake snacks as a treat for the kiddies. (Sorry, LeAnn. Some Twitter autocorrect gaffes are just too good to ignore.)
Rimes kept her Twitter recap (uncharacteristically) short and sweet: "Good t-ball game!!" she tweeted.