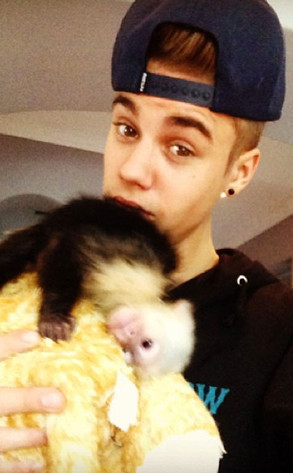 Instagram
Justin Bieber fans, listen up: As you surely already know, Biebs' pet monkey, O.G. Mally (translation: Original Gangsta Mally) has been seized by German customs officials and now awaits his fate in an animal shelter.
His tale has captured the hearts of Justin's fan base, who are demanding Germany #freemally and encouraging the monkey to keep on Beliebing. Below, a look back at the duo's brief friendship as we await a reunion.
Non-Justin Bieber fans, listen up: OMG cute pictures of a little baby monkey! Ahh! It sticks it tongue out and it cuddles stuffed bears, and does anyone know where we can get a pet monkey of our own?