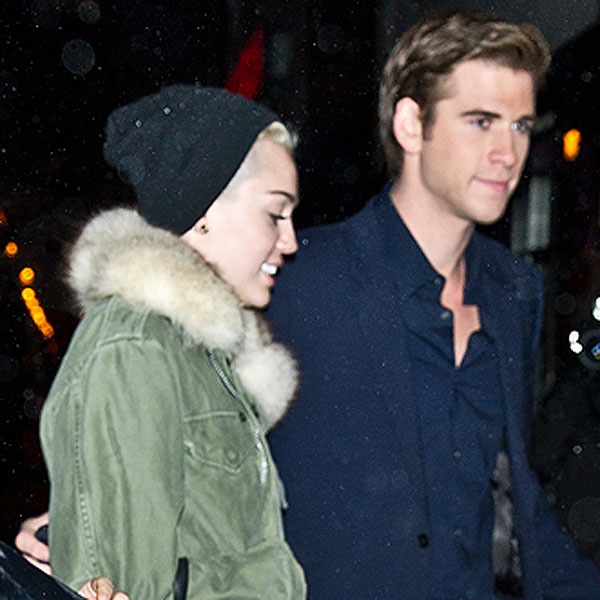 Gilbert Carrasquillo / Splash News
Finally, the focus is back on Miley Cyrus' music, but that doesn't mean we've forgotten about her engagement to fiancé Liam Hemsworth.
Since the hunky actor returned to Los Angeles following his extended vacation Down Under, he's been spotted at the starlet's home, but the twosome have yet to be photographed together.
But thankfully, we have some good news to report on the too-cute couple of nearly four years, who are fighting hard to make their "rocky" relationship work. 
Miley and Liam "are making major healthy strides in their relationship," a source exclusively tells E! News. The source adds that overall, the two are doing well.
As for further signs Miley and Liam are on the mend?
The 20-year-old singer has returned to Twitter after staying noticeably quiet on the social media site while rampant reports claiming the couple had split were frequenting the tabloids. 
What's more? The former Hannah Montana star was spotted with her engagement ring today while her beau was snapped heading to the gym, so it seems as if the twosome are returning to their normal routines together.
Regardless of the duo's relationship status, Miles has been relishing the success of her new single with Snoop Dogg, retweeting a number of tweets from friends and fans who are loving the Calypso-inspired track. 
Our favorite? A post from talk-show host Ellen DeGeneres: 
"Snoop Lion has a new song with @Miley Cyrus, or as I'm calling her now, Miley Siberian Tigress," the funnygal wrote.
Love it! We can't wait to sink our teeth into the singer's new tunes. 
And we're happy to hear Miley and Liam are still going strong.
—Reporting by Sharareh Drury