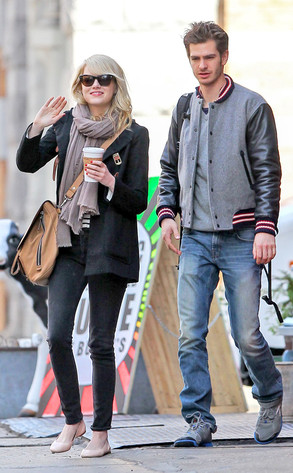 GSNY / Splash News
You know, when you're one of a certain skinny, web-slingin' superhero's two love interests, you need to stay caffeinated.
Still, Emma Stone wasn't clinging so hard to her morning coffee while out with real-life beau/costar Andrew Garfield in New York City that she couldn't manage a friendly wave for the cameras. Hi, Emma!
In The Amazing Spider-Man 2, set for an April 2014 release, Stone's Gwen Stacy will compete for the affections of Garfield's Spidey/Peter Parker with one Mary Jane Watson, played by Shailene Woodley. Emma even sent out a cryptic tweet about the whole love-triangle thing. Pretty sneaky.