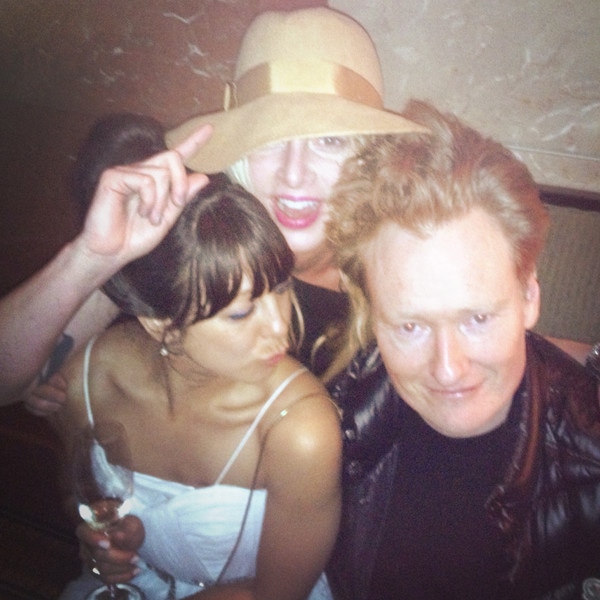 Holly Schumacher
Here's one couple that is surely cuckoo for Coco.
E! News has exclusively learned that Conan O'Brien surprised Wes and Torre Hoffman after he unexpectedly showed up at their wedding reception at the Four Seasons in Atlanta.
It all happened when one of Torre's bridesmaids, Niki Wing, learned that O'Brien was staying at the same hotel where the big shindig was taking place on March 30 and decided to tweet him on the off chance he might be interested in attending.
While O'Brien never actually RSVP'd, he showed up nonetheless.
"I was standing in Park 75 [the restaurant in the Four Seasons] and looked up and saw this towering man with big, red hair and a black leather jack walk in," Wes, the groom, recalled. "He just gracefully walked in, and I walked over and met him and introduced myself. We joked around for a bit, and he showed me how to do his string dance that he does."
After chatting with the bride and groom, O'Brien went over to the bar and ordered a whiskey cocktail, and talked with guests and took pictures with them. Several of the ladies in the wedding party tried their best to get him to take a lemon drop shot, but he politely refused.
At one point, the bride sat on O'Brien's lap and they exchanged stories for a while. The talk show host then proceeded to pull out his phone and showed her pictures of his wife and kids and told her, "This is the best part. It's all about family."
O'Brien wound up staying for an hour, and everyone said he was cool and approachable and the nicest guy in the world, exactly like the lovable goofball you seen on TV.
Niki, the bridesmaid who originally contacted him about the reception, is now tweeting O'Brien in an effort to get him to meet up with the newlyweds and some of their friends at Atlanta's famed Clermont Lounge on Thursday night.
Stay tuned!