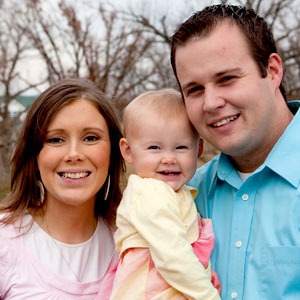 TLC/Scott Enlow
The Duggar family continues to grow. 
Jim Bob and Michelle Duggar have revealed that they will be welcoming a grandson in June, after announcing that Josh and Anna Duggar's third child is a boy. (If you're unfamiliar with the show, Josh is the oldest of Jim Bob and Michelle's offspring.)
"We are so thrilled. It's a little boy, so they'll have two boys and one girl," Michelle told Today. 
"Probably the second boy of many to come," Jim Bob predicted.
Josh and Anna Duggar, who married in 2008, have a 3-year-old daughter, Mackynzie Renee, and a 1-year-old son, Michael James. The couple have told E! News in the past that they're not sure if they'll follow in Jim Bob and Michelle's footsteps by having 19 children, but they're not ruling it out either—just leaving it up to God.
"It's really not about the number of children you have," Josh told us, "but how well are you doing with the children that God has given you. We're really just going to take it one at a time. I don't think you can say we're going to set out and say we're going to have five kids or four or three. We have no control over that. God has the control.
"Obviously, we can do things to prevent that, but I'm glad my parents didn't just settle to have three or four children. There are definitely a lot of advantages to trusting [in God]. Anna's glad that her parents didn't stop at four, because she was number five."
Jim Bob and Michelle also spoke about their recent thoughts on adopting, telling Today that they're "praying about if the Lord would want" it to happen, but haven't made a decision just yet.
However, should adoption be in the picture, the couple said they would consider adopting from El Salvador, where the family has taken mission trips to do community service for the past six years.
"We have set up our home to be designed for taking care of children," Jim Bob said. "We love children, and we really believe every child is a special gift from God."