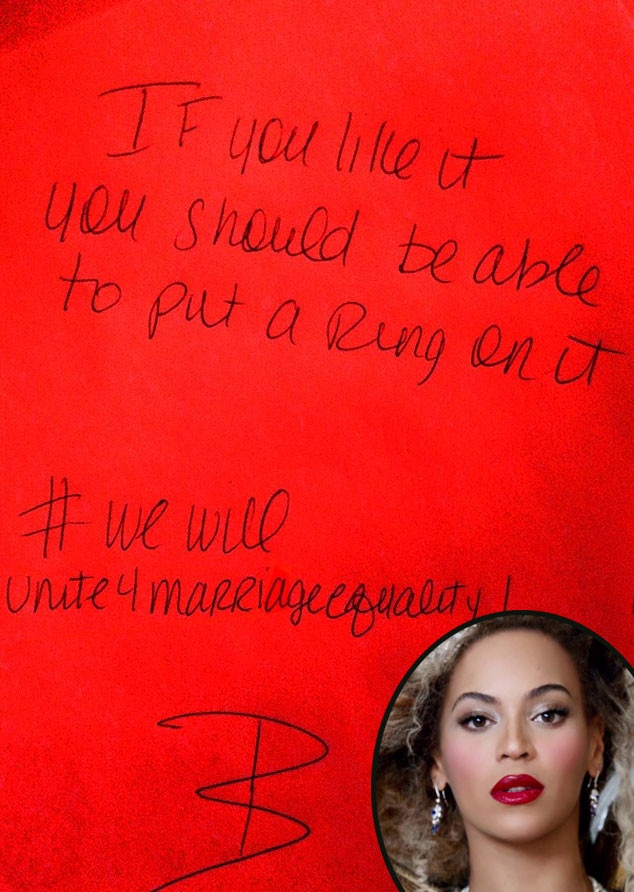 Instagram
Beyoncé wants fans and supporters to bow down to what is fair, just and right.
Hours after the debate on Prop 8, California's controversial ban on gay marriage, raged in the Supreme Court, the Grammy winner came out in vocal support of marriage equality.
And the singer used her formidable Facebook page as a platform to let the world know her stance.
In her singularly intimate style, the 31-year-old posted a handwritten note that read, "If you like it you should be able to put a ring on it," giving the lyrics to her anthem "Single Ladies" deeper resonance.
She also caption the photo: "#WeWillUniteForMarriageEquality."
Earlier, Beyoncé had posted another Facebook message—"It's about TIME!!! #EQUALITY #MarryWhoYouLove"—and attached a photo of the Human Rights Campaign logo.
The songbird joins a surging wave of stars who've tweeted their support of gay marriage in the wake of the Prop 8 Supreme Court debate.
This past spring, the singer's own hubby, Jay-Z, spoke openly about marriage equality, saying that President Barack Obama's trailblazing endorsement of same-sex marriage was "the right thing to do."
"You choose to love whoever you love," H.O.V.A. said in an interview with CNN. "That's their business. It's no different than discriminating against blacks. It's discrimination, plain and simple."