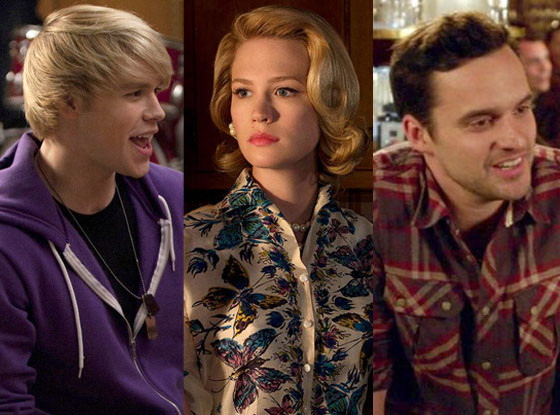 FOX, HBO
Will there be another death on New Girl by season's end?!
Though one of the roomies lost a family member in the Fox hit's most recent episode, today's Spoiler Chat has scoop on the kill-happy series New Girl will be paying homage to in its season finale, as well as major drama going down at McKinley on Glee soon. If that's not enough for you, we've also got spoilers on a fan favorite Teen Wolf pairing and Mad Men's highly-anticipated season premiere. Oh, and there's also spoilers on Bones, True Blood and more!
Plus, we dish out a clue on one of our juiciest blind items ever...
Emily T.: Can you please eliminate some shows from your finale blind item? I am dying here!
What, and save you the torture fun of guessing which of the ten shows we're talking about? That's not fair. But we hear your please so we will eliminate one show. It's not How I Met Your Mother. That finale is a whole other beast.
Erika: It's been pretty quiet on the Glee front lately. What gives?
Probably because Glee is gearing up for the April 11 episode, which is sure to be a doozy. Have you seen the episode description for the "Shooting Star"? If not, here it is: "The members of New Directions are prepping for Regionals, but when an unthinkable event occurs at McKinley High, perspectives are put into order…" Yikes, what do you think is about to go down? One other thing to note: Coach Beiste is returning in that episode, and we haven't seen her since "Glee, Actually." Could be nothing, or it could be something. Take it away, speculation experts!
Tabby: Loving the Mad Men spoilers! Anything else you can spill?
If you want scoop on the premiere, you are in the wrong place (until next week, we'll have tons of scoop on the premiere then). But if you want some info on the Mad Men season-six finale, man, are you in luck! The thirteenth episode will have some heavy religious themes involved, complete with characters who are fanatic about their faith. We know, Mad Men hasn't even premiered yet and we're already dropping details about the finale. You guys are spoiled.
Ramona: New Girl New Girl New Girl!
You want Rules of Engagement scoop? We kid. New Girl's season finale is titled "Downtown Abbey Christmas Special," and if you are a Downton Abbey fan, you know what that implies. Someone always dies in those Christmas specials! Rest assured, they're probably won't be a death on New Girl, except maybe the hope of one person loving another. That's all we're saying for now.
Quinn: I've voting like mad for David Boreanaz for Alpha Male Madness! While we wait for the next round, can I please have some Bones scoop?
Don't stop clicking until your mouse tells you to stop. And then take your mouse to the police because it's talking and probably plotting to kill you. Anyway! The season's twentieth episode will be titled "The Secret in the Siege," and it will not be a lighthearted episode like the ones we sometimes expect from Bones. The episode will revolve around a very dangerous criminal who is part of a religious cult and is out for revenge against the FBI, and believes that all his murder orders come directly from God.
Jasmine: So happy that Sterek won the Top Fantasy TV Couple tournament! Any season-three scoop on them to celebrate?
We can tell you that the first half of Teen Wolf's upcoming season is a bit light on the Sterek, though they will interact, according to Tyler Hoechlin. "It's always fun working with Dylan [O'Brien], we have a blast together. It's been one of my favorite relationships on the show. There's always going to be that interaction. How much there will be this season? We'll see!"  O'Brien adds that there's been so little Sterek action so far, "I told Jeff [Davis] I think it would be funny if the next scene he writes between Stiles and Derek, he ends it with us like about to walk away but we look back at each other and say, 'I miss this!'"
Ada in Indianapolis: I need True Blood spoilers, preferably if they are about Alcide getting naked.
We could probably make that assumption with episode six, because the title is "Don't You Feel Me?" Maybe Alcide wants you to feel his bare chest? That's also the episode where we really get to know the LAVTF, which stands for Louisiana Vampire Task Force. We'll be introduced to a new and possibly recurring character who is the chief of the LAVTF, which means he will become a very powerful enemy of our favorite vamps.
Jackie: Arrow scoop, please!
Felicity and a shirtless Oliver spend some quality time together in tonight's episode. Get your minds out of the gutter, shippers. Felicity gets to ogle Ollie while he gets in his daily workout. One-armed pull-ups, anyone?
—Additional reporting by Jenna Mullins and Tierney Bricker

Want your TV questions answered in our next Spoiler Chat? Email them to tvdiva@eonline.com or tweet at @KristinDSantos!