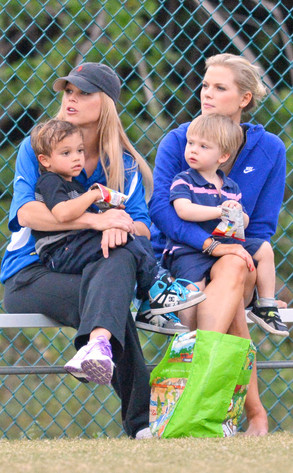 INFphoto.com
No, this isn't a classic Doublemint gum commercial—it's Elin Nordegren and her twin sister, Josefin, coaching soccer from the sidelines.
Ex Tiger Woods and his new girlfriend, unobtrusive skier Lindsey Vonn, weren't in sight, but Elin—whose shirt clearly identified her as "coach"—was joined at daughter Sam's soccer game in Jupiter, Fla., yesterday by son Charlie, her sis and little nephew.
Picture perfect, don't you think?
Off waxing his yacht, perhaps, was Elin's new beau, billionaire Chris Cline, but maybe he'll be able to catch the next match.