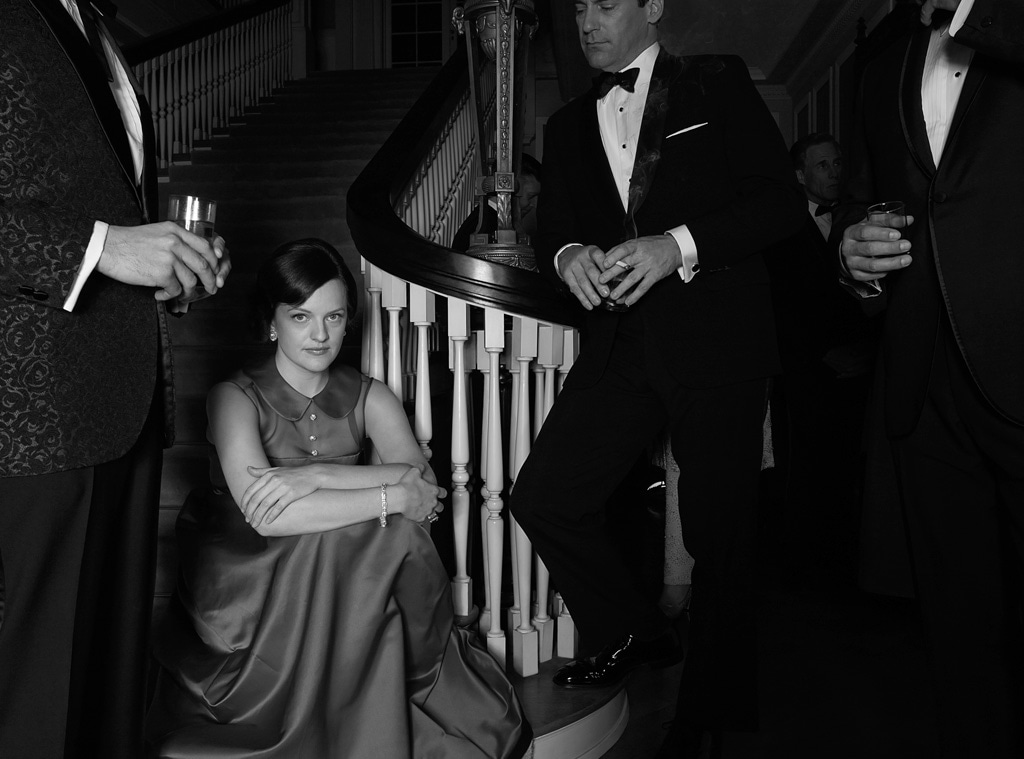 Frank Ockenfels/AMC
Mad Men's men are in for a wake-up call!
At least, that's what one of the AMC hit's stars told us at the show's premiere, and that's on tap in today's Spoiler Chat! Also included is scoop on the new guy Pretty Little Liars' fans will be meeting in season four, and The Office's series finale!
Plus, we've got dish on Grey's Anatomy, Chicago Fire, The Carrie Diaries, Anger Management and more...
Laura: Confession: I am obsessed with Austin Butler on The Carrie Diaries! He's just so cute as Sebastian. Any fun scenes coming up for him on the show?
Prepare for major callback to Sex and the City and Mr. Big when the adorable duo of Sebastian and Carrie have a major moment outside of The Plaza. You know, where Big's engagement party went down?!
Alicia: It's almost Mad Men time! Spoilers, please!
If you're a Peggy fan, then this is the season for you! Elisabeth Moss tells us that her character will be the one bossing the men around this time around. "She has been taking so much s--t for so long. It's nice to order them around for a change!" Go Peggy!
Tristan: Any more Office finale spoilers I can trick you into spilling?
Probably not, we're smart and keep secrets good. Aw, who are we kidding? Some former characters will be back for the end of The Office, and these are faces we haven't seen in quite some time. No, we can't confirm that one of them is Michael Scott, but we are confirming it with ourselves in our hearts.
Liza: What do you have on Grey's?
Just in time for Spring Break, Grey's is planning an episode that will revolve around a trio of sorority girls whose fun night turns into a lengthy stint at the hospital. Let's just say that one of the ladies almost parties herself…to death! And the doctor who has to deal with the situation is the complete opposite of a hard-drinking party girl, so the situation definitely has its amusing moments.
ABC FAMILY/ERIC MCCANDLESS
Maddie: Pretty Little Liars' finale was amazing! Any scoop on season four?
Episode three of the new season is called "Cat's Cradle" and will introduce fans to a Tim Burton-ish character named Hector Lime, an unkempt sculptor who makes props and statues for horror movies. Oh, and he specializes in masks. Hmmm…
Dom: Love the idea of Lindsay on Anger Management. Do you have details about her role that aren't already out there?
We got ahold of some of the stuff Lindsay Lohan will be doing in her episode, and it's actually kind of funny, because she's almost mocking herself. For example: In the episode, she'll be shooting a commercial for whiskey-infused gum and refer to her parole troubles. The episode title? A simple "Charlie & Lindsay."
Ellen: Any good stuff coming up for the TV love of my life, Chicago Fire's Severide?
There is a joke in there involving his last name, but we are too mature to make it. Nah, we're totally not, but we will still resist the temptation. Severide is going to find himself in quite the pickle near the end of the season. We're talking a jail-type pickle. And of course there's a women involved. There always is. But before you start thinking awful things about the "TV love of your life," you should know that the woman in this scenario is the bad guy, for lack of a better term.
David: Any Newsroom spoilers?
Neal is getting a new love interest! Yes, it seems the News Night blogger will be going on a date with an attractive mtvU political journalist named Aubrey, who is described as smart, outspoken and attractive. Way to go, Neal!
—Additional reporting by Jenna Mullins and Tierney Bricker

Want your TV questions answered in our next Spoiler Chat? Email them to tvdiva@eonline.com or tweet at @KristinDSantos!