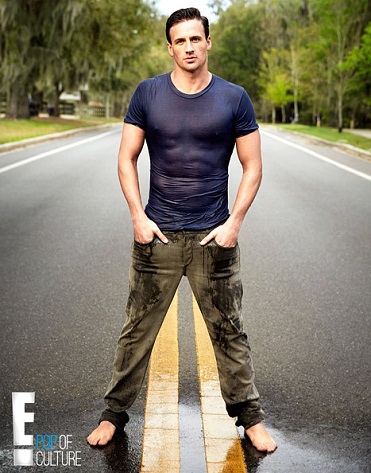 Ryan Lochte has such nice abs, he doesn't even have to be shirtless to show them off.
In anticipation of the premiere of his new series, What Would Ryan Lochte Do?, the swimmer and new E! star posed for some sexy photos. The result is...well, only one world comes to mind: JEAH!
"I had so much fun shooting in Gainesville," Lochte exclusively told E! about the shoot. "I was on my college campus—it felt like home…or as much as it can feel like home when people are dumping buckets of water all over you in the middle of a street."
What Would Ryan Lochte Do? will premiere on April 21 on E! and will follow Lochte as he balances his swimming career, being an entrepreneur and even finding love. Promos continue to provide sneak peeks at Lochte's on-camera charm, including this latest one centered around the swimmer's signature catchphrase: