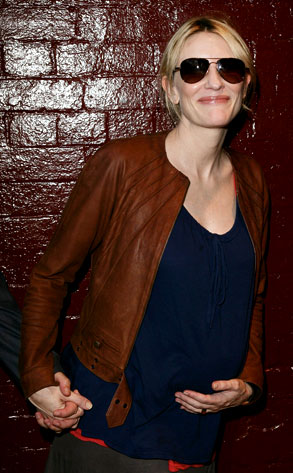 Don Arnold/WireImage.com
Cate Blanchett and Andrew Upton have made it a threesome.
The Oscar winner and her playwright hubby of 10 years welcomed their third child together, son Ignatius Martin Upton, Sunday in Sydney, according to a rep for the Sydney Theatre Company, where the couple serve as coartistic directors.
"All are well and very happy," said Tim McKeough.

Ignatius, weighing in at 7 pounds, 9 ounces, joins brothers Dashiell, 6, and Roman, 3.
Blanchett, glammed out in bump-friendly gowns while strolling the red carpet during the recent awards season, confirmed her pregnancy in November, telling the reporters who informed her of rumors she was having a boy, "You know more than me. It's early days yet. It's due in April."
The 38-year-old actress pulled double duty on the big screen last year, reprising her star-making role as the Virgin Queen in Elizabeth: The Golden Age and as one of six Bob Dylan-incarnates in Todd Haynes' I'm Not There.
Before she started to show, she had completed filming on David Fincher's The Curious Case of Benjamin Button, opposite Brad Pitt and Tilda Swinton, the Brit who beat out Blanchett for Best Supporting Actress at this year's Academy Awards.
Next up for the Australian thesp is the long-awaited Indiana Jones and the Kingdom of the Crystal Skull, in theaters May 22. Benjamin Button will be along Dec. 19.