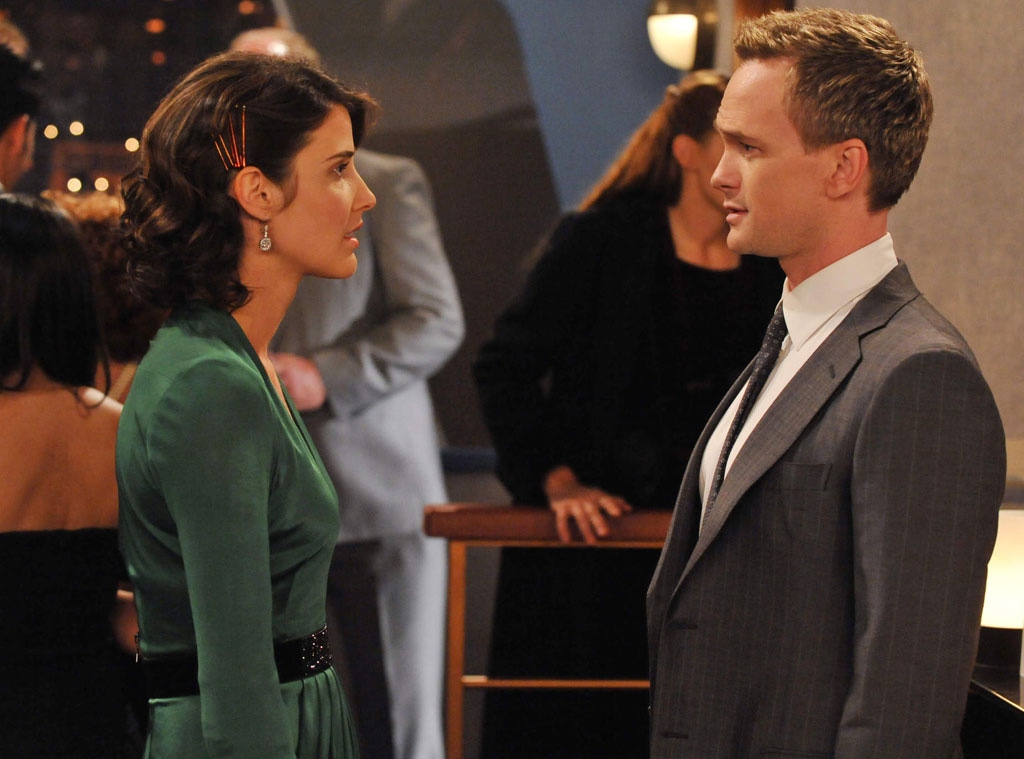 Eric McCandless/Fox
Finale season is rapidly approaching, so you know what that means: It's time for a wedding!
In today's Spoiler Chat, we've got scoop on this year's most highly anticipated nuptials: How I Met Your Mother's Barney and Robin! Plus, we've got spoilers on a fan-favorite Arrow couple, an ex heading to CSI and a new lady coming to stir up trouble on Covert Affairs. Plus, we've got scoop on Teen Wolf, Glee, Nikita and more!
Allie: Obsessed with all things New Girl! Scoop me.
Rock royalty is coming to New Girl! In the show's upcoming flashback to the gang's respective first times, Mick Jagger circa 2000 will make an appearance! Any suggestions on who should play the famous Rolling Stones frontman? (Also, how hilarious would it be if Jess' first time was revealed to be with Jagger?!)
Lynsey: June is too far away! Any Teen Wolf spoilers to make the wait less awful?
When we asked Tyler Posey to tell us what he's really excited for fans to see, he spills, "There are some really good scenes I have with Dylan that are great and the fighting scenes." So the bromance is alive and well, folks! Oh, and we can tell you that a Stiles and Scott scene will make you cry. How do we know this? Because Tyler cried while reading the script!
Ricky: I haven't seen a How I Met Your Mother spoiler in years from you guys!
Whoa. That is an overreaction. But it's been a while, so we don't blame you. Good thing we just stumbled upon the current title of the HIMYM season-eight finale: "Something New?" Obviously that title has to do with the old saying about a bride having something old, something new, something borrowed and something blue on her wedding day. We guess the bride in question this time is Robin. But why the question mark?
Ashlee: Got anything new on Glee?
Is there a romantic date night ahead for a Glee couple? Maybe. Glee is looking to cast an opera singer than can show off her amazing pipes in episode 19. But given that Glee is all about singing, this role really could be for anything. But we like to think it's for Kurt and Blaine's reconciliation date night at the opera.  
Daria: Any Nikita scoop to share?
Alex is getting a new friend! The show will be introducing Maryam Hasan, a Sudanese human rights activist, who strikes up an unlikely friendship with our heroine after she becomes the target for an assassination. She'll challenge Alex to question where her life is heading and her place in the world.
Cynthia: I'll take anything you've got on CSI!
It's time to meet Brass' ex-wife!  In the CBS' big two-parter at the end of the season, we'll meet Nancy, who is described as grounded and strong, when she comes to Brass for help when their daughter is reported missing. Though he was a less-than-stellar husband, Nancy is willing to open up to Brass because he is a great cop.
Alexis: I haven't given up on Laurel and Oliver getting back together on Arrow! Anything you can tease?
Well, then you're sure to love what Katie Cassidy had to share with us! "I think she does want to get back with Oliver deep down, yes. I think he's the love of her life but she can't right now," she explains. "I don't feel like she has it in her at this point to go there, but I do think it's something that you wish you can have but know it's not possible."  Maybe season 10?!
Kellie: Any juicy Annie and Auggie scenes coming up when Covert Affairs returns?!
Look away Annie and Auggie fans, as Helen Rivers, an exotic and stunning beautiful woman who has a mysterious connection with Auggie, will make her debut in episode in season four and will most likely be sticking around for quite some time. She also happens to be an extremely skilled CIA agent who is in a special program that takes her deep undercover.
—Additional reporting by Jenna Mullins, Tierney Bricker, John Boone and Nicole Filla

Want your TV questions answered in our next Spoiler Chat? Email them to tvdiva@eonline.com or tweet at @KristinDSantos!