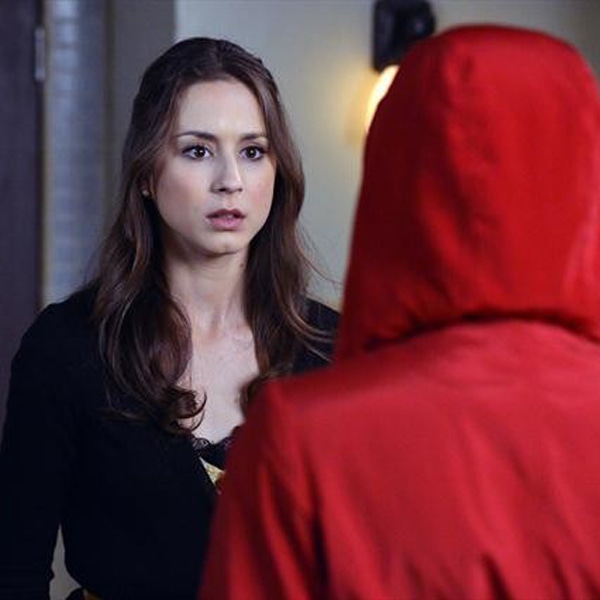 ABC FAMILY/ERIC MCCANDLESS
Spoiler alert! Our roundup of the night's most memorable TV moments will brief you on the biggest and best happenings from Tuesday's shows—some of which you might not have seen yet.
So, look away now if you don't want to know! Otherwise, get ready to geek out along with us.
Pretty Little Liars: Talk about a jam-packed hour of TV! The season three finale definitely brought the DramA (see what we did there?!) as it was revealed Toby (Keegan Allen) is alive and well...and back together with Spencer (Troian Bellisario)?! Yes, Spoby is so very on again after it's revealed that they are both double agents! Elsewhere, Ezra (Ian Harding) and Aria (Lucy Hale) broke up. Again. Must be Tuesday!
Oh, and Red Coat was revealed to be...Alison (Sasha Pieterse)! But wait, isn't she dead? And what was in the trunk of the car at the end of the finale? Who knows, but we're dying to find out....on June 11 when PLL returns for its fourth season.
New Girl: Phew, is it hot in here or is it just Nick (Jake Johnson) and Jess (Zooey Deschanel)?! How silly of us, of course it's Nick and Jess, who hooked up again. And no, this wasn't some fairy tale kiss; this was a destroy-the-entire-apartment-literally kind of hookup. (Isn't it crazy to think that we were ever worried that these two hooking up would mean the end of New Girl's awesomeness? We were so young and naive.) Alas, the duo did not have sex for the first time in the ep (Thanks a lot, fish tank!), their crazy-hot makeout session was enough for us. (Um, Nick saying, "Shut up and take off your damn clothes. I mean it"? Woah.)
NCIS: Los Angeles: The CBS hit series aired the backdoor pilot for the potential spinoff NCIS: Red, starring John Corbett and Kim Raver as an on-the-go team that travels in two trailers from case to case. (Tagline suggestion: The road is the only home they know.) So it's like NCIS meets Road Rules? We're so there!
Prop of the Night: Mindy's (Mindy Kaling) friend gives her a life-size Chris Evans body pillow for her birthday on The Mindy Project, aka the greatest gift one friend could ever give to another. Step up your game, friends of the world!
Twisted: Talk about a match made in ABC Family heaven! After the Pretty Little Liars finale, the network aired a special preview of its new series Twisted, which is, you guessed it, pretty twisted! Avan Jogia stars as a troubled teen who returns to his hometown to reunite with his two childhood BFFs. Too bad the happy reunion is cut short when he becomes the prime suspect after a local teen is murdered. (His juvie past doesn't help matters much.) We're curious to know what you think of the new series, which we think is a perfect pairing with PLL.