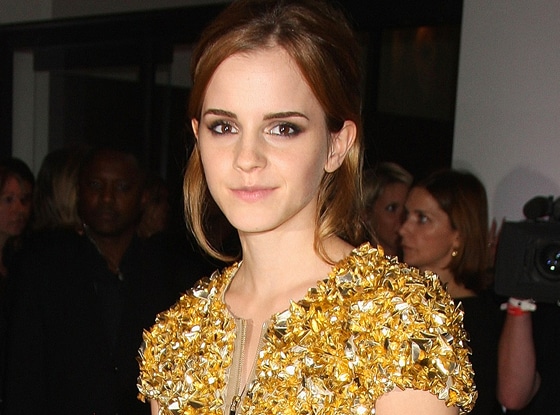 Courtesy Getty Images for Burberry
Emma Watson is like really, for real, in real life not starring in the Fifty Shades of Grey movie.
But the Harry Potter alum isn't the only actress we can picture in Christian Grey's Red Room of Pain!
Here are five more stars we'd like to see try out the ropes (and chains) as Anastasia Steele.
Alberto E. Rodriguez/Getty Images
1. Ellen Page: She'd need some blue contacts and might seem like an unlikely choice, but we could totally see the Juno star getting into those jeans. The 26-year-old actress has the fair complexion, full lips (all the better for biting the lower one—oh my!) and obviously the skill (she was nominated for an Academy Award in 2008) to transform from a shy, mousy college student to Mr. Grey's favorite sub.
Giulio Marcocchi/Sipa USA
2. Anna Kendrick: In October, a caller on Watch What Happens Live asked the 27-year-old Twilight star if she'd be up for the role of Anastasia. At the time, Anna did her best to evade the question, explaining that she hadn't read the book yet. But this brunette beauty isn't that shy about her sexuality. Earlier this year, the actress tweeted a racy quip about a man we, coincidentally, would love to see as Christian. "Ugh - NEVER going to a Ryan Gosling movie in a theater again," she wrote. "Apparently masturbating in the back row is still considered 'inappropriate.'" No such thing!
Stephen Lovekin/Getty Images
3. Ashley Greene: Anna's not the only girl from Forks that might be able to drive Mr. Grey wild. Ashley, 26, can certainly change her look from innocent and virginal to sexed-up and vampy. Maybe we should toss some silver balls her way?
4. Amanda Seyfried: She played a porn star in the Linda Lovelace biopic, so we know this 27-year-old beauty is OK with showing a little skin. Plus, Amanda's got that wide-eyed, cherubic look that made Anastasia so irresistible to Christian in the first place. If she dyed those blond locks brown, slipped on some Converses and got ahold of some handcuffs, she'd be perfect for mastering kink on the big screen.
5. Ashley Benson: The formerly blond Spring Breakers star recently moved one step closer to becoming Ana when she went brunette. This 23-year-old actress definitely has the looks and ability to keep Christian pleased, and she's also got the enthusiasm! "I've read every book. I want to play Anastasia," she told Celebuzz this past May. "Kate is awesome. I like all the characters, but Anastasia? I love her so much."
So have a glass of Twinings English Breakfast tea (or white wine, depending on your mood) and let us know in the comments: Who do you think should play Anastasia Steele?!