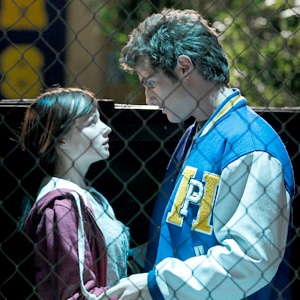 MTV
It's time to get awkward again!
Mark your calendars, folks: MTV's hit series Awkward will return for its highly anticipated third season on Tuesday, April 16. Wheeee!
But wait, it gets better! The premiere will be an hour-long event as the first two episodes of the Ashley Rickards-led high school comedy will air back-to-back beginning at 10 p.m. Plus, we've got your first look at season three!
Season three of Awkward finds Jenna (Rickards) & Co. beginning their junior year, with our heroine asking herself the question "Who do I want to be?" While Jenna will start the season off with Matty (Beau Mirchoff), it seems she may soon realize there is more for her beyond her love life.
The premiere episode will bring a wave of surprises and changes that could impact Jenna's future, while the second episode will feature the death of a classmate that will lead Jenna to reflect on and take responsibility for a secret she's been keeping from Matty. Ruh-roh!
MTV will debut its new series Girl Code, a spin-off of MTV2's Guy Code, on Tuesday, April 23, at 10:30 p.m.