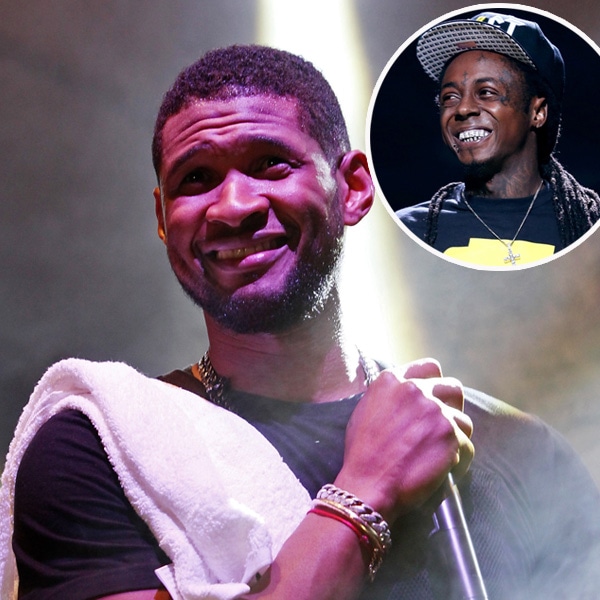 Roger Kisby, Christopher Polk/Getty Images
Fans and friends of Lil Wayne are showing their support after the rapper's serious medical scare on Friday.
R&B singer Usher, who made a surprise appearance during indie rock group the Afghan Whigs' concert on stage at the Fader Fort Presented by Converse event at SXSW last night, took a minute to give Weezy a shout-out and to ask the crowd to keep the artist in their thoughts.
"I don't mean to bring everybody down, but right now I think I want to just ask something of you guys," he began.
"One of my fellow artists, good friend, Lil Wayne is going through a real hard time right now, y'all. And I just want to send a lot of positive attitude about his state. And a lot of positive energy out there right now. Can you guys make some noise for Lil Wayne one time? You know it's ultimately about positive energy. You believe in that? So one time make some noise."
Tunechi was hospitalized in Los Angeles on Friday after suffering multiple seizures. Reports had claimed that the 30-year-old star was in critical condition from a medically induced coma and not breathing on his own, but members of his Young Money/Cash Money records, and even Weezy himself, took to Twitter to set the record straight.
"Wayne is alive and well! We watching the Syracuse game...thanks for the prayers and concern..he will update you all soon. #love," tweeted Young Money Entertainment president Mack Maine. He followed moments later with, "We will be releasing an official statement shortly but dont believe the nonsense about comas and tubes to breathe...that's false!!"
Wayne tweeted: "I'm good everybody. Thx for the prayers and love."