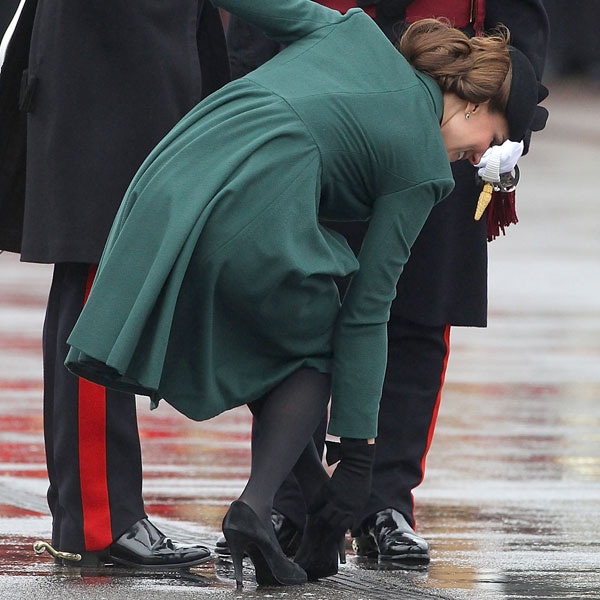 Danny Martindale/WireImage
It's safe to say Kate Middleton didn't have the luck of the Irish on her side today.
The 31-year-old Duchess of Cambridge got her heel stuck in a grate while attending the St. Patrick's Day parade at the Aldershot Barracks in England Sunday, causing a slight mishap. 
ADRIAN DENNIS/AFP/Getty Images
But, thankfully, she was easily able to bend down, pull her shoe out and get back to her duties at the event—presenting sprigs of shamrocks to the 1st Battalion Irish Guards.
The ever fashionable mom-to-be, who attended the event with her hubby Prince William, sported a green Emilia Wickstead dress coat (the same one she wore at the event last year), a gold shamrock on her lapel, a black hat and Emmy black pumps.
Middleton, who is five months pregnant, has yet to reveal the sex of the couple's baby, but reportedly chatted with a soldier at the event, dishing on whether she and Prince William were hoping for a boy or a girl.
"I asked her 'do you know if it's a girl or boy', and she said 'not yet'," the soldier said, according to reports. "She said 'I'd like to have a boy and William would like a girl'. That's always the way."
Middleton also reportedly told the soldier that she hadn't yet picked out a name for the baby.