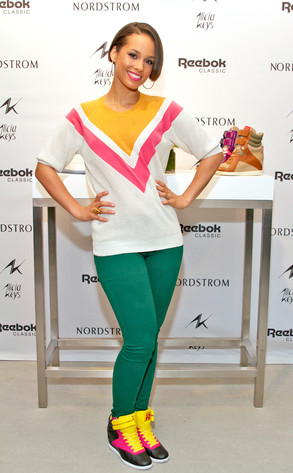 Courtesy: Reebok
This girl is on fire!
Hot off the heels of kicking off her Set the World on Fire tour last week, Alicia Keys is already busy with her latest project: launching her new shoe collection with Reebok.
And this isn't Keys' first turn as a designer, either. Back in September 2011, she launched her debut Reebok Classic X Alicia Keys collection. This time around, she reworked Reebok's classic Freestyle sneaker, updating it with the oh-so-trendy wedge heel and some lively color choices.
"The Freestyle has always been a part of my style—so I'm really excited to give it even more of an edge," Keys said in a statement. "I'm feeling deeply inspired this year with the new album, tour, and everything that's going on in my life. Creativity is limitless in its possibilities and I love that I get to express myself in a whole new artistic way through the design of these collections."