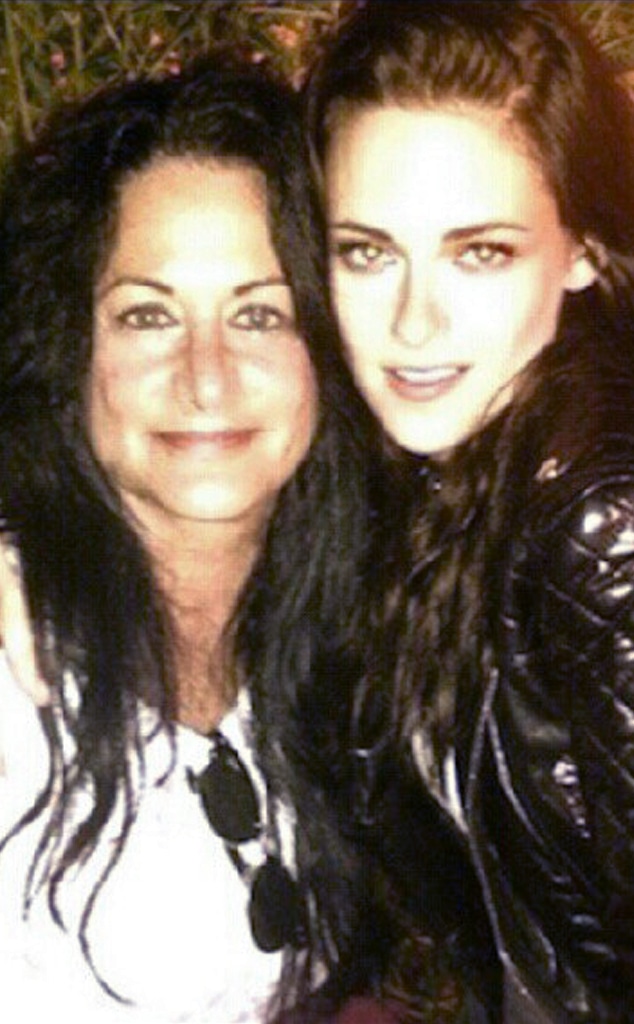 Courtesy of Instagram
Kristen Stewart may have dropped out of her mom Jules Stewart's directorial debut, K-11, but that doesn't mean she isn't in the film.
K.Stew makes a vocal cameo in the film about a businessman, Raymond Saxx (played by Goran Visnjic), who finds himselft thrown into the gay and transsexual unit of a Los Angeles jail after he's arrested for drug use.
"We had one role that we couldn't find the right voice for and it's Raymond's secretary," Jules told me at her Libertine Films production offices in L.A. "As he's on the telephone frantically trying to call outside, trying to get information, his secretary answers the phone and talks to him, and that, in fact, is Kristen. It was perfect, because she came in at the very last second and banged it out. It was perfect."
Watch:
Jules Stewart Sneaks K.Stew Into "K-11"
Kristen had originally signed on to play Butterfly, a young transsexual woman who's in jail for murder.
"The timing was just bad and it also wasn't going to be a Kristen Stewart movie," Jules said. "She would be No. 4 on the list and she was willing to do it, but we acknowledged that the public wasn't willing to let her do that. She would be No. 4 [but] she would always be No. 1. That's really not fair for the other actors that really did drive the story it was better for everybody that she wasn't involved."
In K-11, Katie del Castillo costars as Mousy, an inmate who rules the unit with sex, drugs and violence. Stewart, who also cowrote the screenplay, tried to cast a male actor or a transgendered actress, but couldn't find the right fit. "It was easier to take a woman and ask her to play a man transitioning into a woman than it was to take a man and have him transition into a woman," she said. "I felt that the characters were much more believable and fierce with that feminine side."
Jules' son Cameron has a small role of a jailhouse baddie in the movie.
Nope, he doesn't want the kind of fame his sister has. "He's done a few things and he's willing to do things if it's the right project," Jules explained. "But he's not out there beating the sidewalk trying to get an acting job. He's a grip in the movie industry and he's quite happy doing that and he's quite successful."
She does hope to direct Kristen some day. "I don't think anybody in the hot seat, in the director's chair would turn down the opportunity to work with somebody who is really talented," Jules said.
For now, she's trying to get to the attention she's receiving for K-11 as well as the publicity she has to do for the flick. She's learned what to do—and not to do—when dealing with the press by watching her daughter.
Like?
"Well, not to touch my hair [during interviews], try not to be nervous," Jules said, adding, "I've learned a lot from my daughter. She's really smart and she's really funny and she's got a real solid handle on her position in life, and I really respect her for that. She's solid. She's rooted, really solid. She's an old soul. We love her for that."
Watch:
Why Jules Stewart Chose to Direct