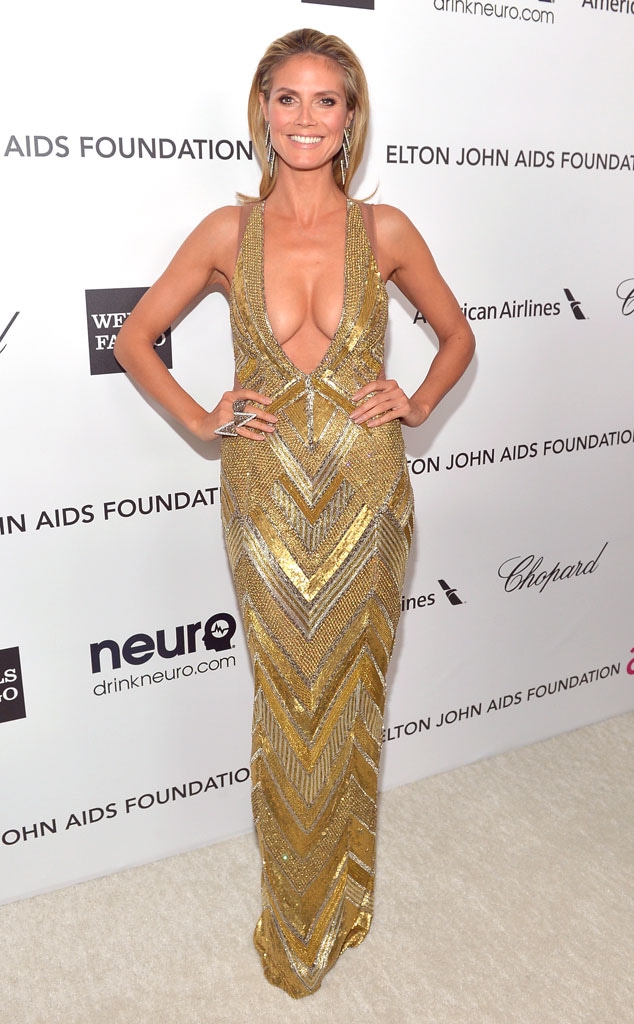 Charley Gallay/Getty Images for Neuro
Remember Heidi Klum's breasts at Elton John's Oscars party? They were just so...exposed?
Well, it turns out that the Project Runway host actually stitched up the, er, neckline of her gold Julien Macdonald gown "about 3, 4 inches" before heading out.
"I loved this designer and I loved this dress because it was very form-fitting," Klum told E! News today at the Heidi Klum for New Balance launch at Lady Foot Locker in Culver City, Calif.
But, it turns out the fashion-boundary-pushing model still has a few boundaries.
"To be honest, the slit was, like, all the way down to my belly button," the mother of four added, gesturing in that direction.
"I actually closed it a lot!" Klum protested when we told her that, yes, we were indeed familiar with the cut of her dress. "I was kind of worried that, if I would have left it like this, that, you know, an accident might have happened."
So, what Klum went out in was the altered, more modest version?
"It was from here to here," she said, pointing to a few inches of pretend fabric. "I closed that up. But it needed it. I don't know if the designer was happy about that, but it was a little bit too open."
—Reporting by Marcus Mulick
Watch:
Heidi Klum Unveils Active Wear With New Balance