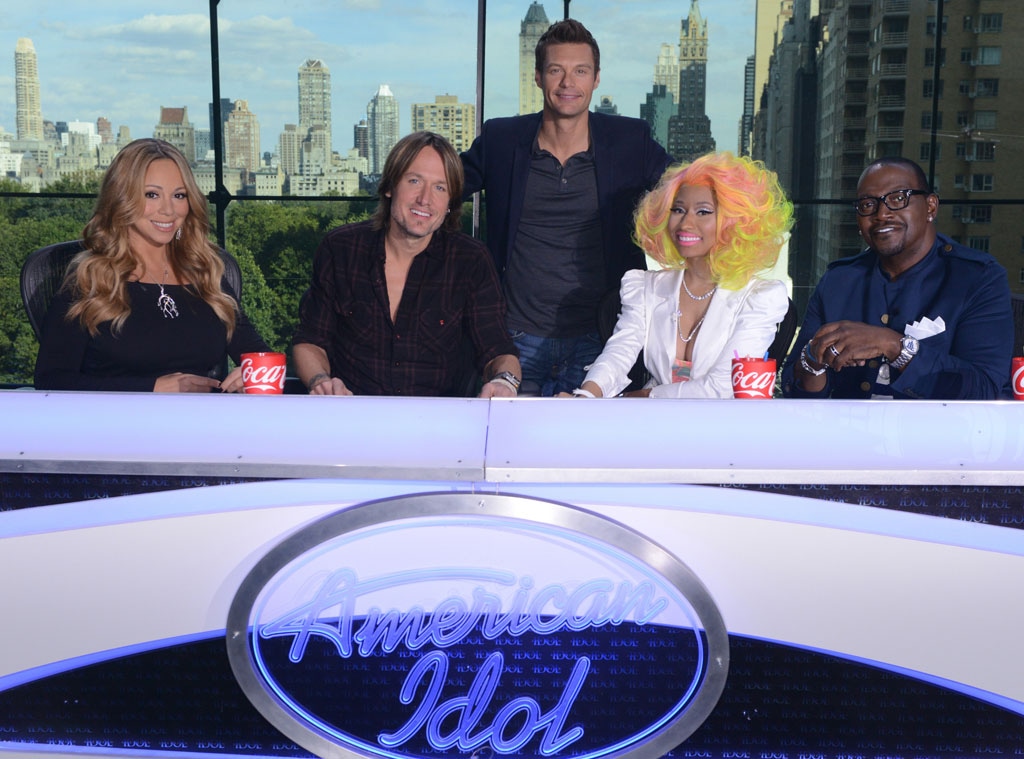 Michael Becker / FOX
Be honest: How many of you are watching American Idol just for to see the eye rolls and subtle (and not-so-subtle) digs between judges Nicki Minaj and Mariah Carey? You can answer truthfully, this is a safe place. And you are definitely not alone.
Ever since the entertainment world first got wind of a feud between the two divas, we've been captivated by the nonstop jab contest with Minaj and Carey. Sometimes the fights are on American Idol while they judge the latest contestant, and sometimes they take the heat off of the reality series and bring it elsewhere, like say, to Barbara Walters. Regardless, there's been plenty of priceless feud moments between these larger-than-life ladies. Here are our top five:
1. The Shoes Win: Rumors of an on-set fight while taping the auditions is what started the feud fire, and when the American Idol judges sat before critics in January at the Winter Press Tour, they of course were asked to address the rumors. They didn't do much to deny the bad blood between them:
Mariah: "It was sort of a one-sided thing."
Nicki: "No, it wasn't."
[tense silence]
Mariah: "Well, at least we can agree on my shoes."
2. Mariah Brings Babs Into It: During a Nightline interview, Barbara Walters brought up one of Nicki's song that she wrote while working on Idol. Supposedly, it was filled with digs at Mariah, and Walters of course had to get her opinion on the tune. Mimi gave an opinion, and threw some serious shade for good measure.
Barbara: "Are you the 'bitch' she's singing about?"
Mariah: "Don't know. I didn't know she sang. I thought she rapped. Or whatever."
3. On Wednesdays We Wear Pink: There were so many magical moments between Nicki and Mariah on American Idol's season premiere, but far and away the best one was the fight about the movie Mean Girls. Somehow, the Lindsay Lohan comedy was brought up, which led to a "who knows the movie better" quote contest. It was amazing. 
Mariah: "I wanna lose three pounds."
Nicki: "I know how you can."
Mariah: "It's a quote from Mean Girls. If you knew Mean Girls, you'd know."
Nicki: "I do know Mean Girls."
Mariah: "OK, who says, 'I want to lose 3 pounds'? Which character?"
Nicki: "Um, not Lindsay, the other one, with the blond hair."
Mariah: "What's her name?"
Nicki: "You know something? Mariah..."
Mariah: "I just wanna know. Broken promises!"
4. The Eye-Roll Treatment: This particular feud moment cannot be heard, only seen. Just check out our GIF post honoring all the best facial expressions, rolled eyes, etc. Minaj aimed at Carey in just one episode, and you'll get the idea.
5. All I Want For Christmas Is…Oh, Snap: Also happening in Idol's season premiere was this conversation about a Christmas classic: Mariah Carey's rendition of "All I want For Christmas."
Mike (Contestant): "All I Want for Christmas' is the best modern-day Christmas song."
Nicki: "It sure was, wasn't it, Mike?"
Mariah: "Still is, dahling! No. 1 last year. Seventeen years later, it's still No. 1."
What have we learned here, kids? Hell hath no fury like two pop stars unleashing shade on each other.