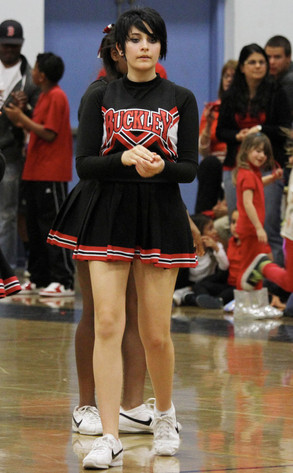 GoldenEye / London Entertainment / Splash News
Gimme a G-O-T-H!
Just like her incomparable father before her, Paris Jackson is carving out a fierce identity all her own. And you don't need to look any farther than the hard court for proof, where Michael Jackson's precocious 14-year-old daughter has been bringing her sassy, rock-tastic vibe to her school's cheerleading squad.
On Tuesday, the budding punk princess—who unveiled her edgy new look two weeks ago—busted out her pom-poms to rally for her Buckley High School's basketball team as they took on the San Gabriel Academy at Birmingham High School in Van Nuys, Calif.