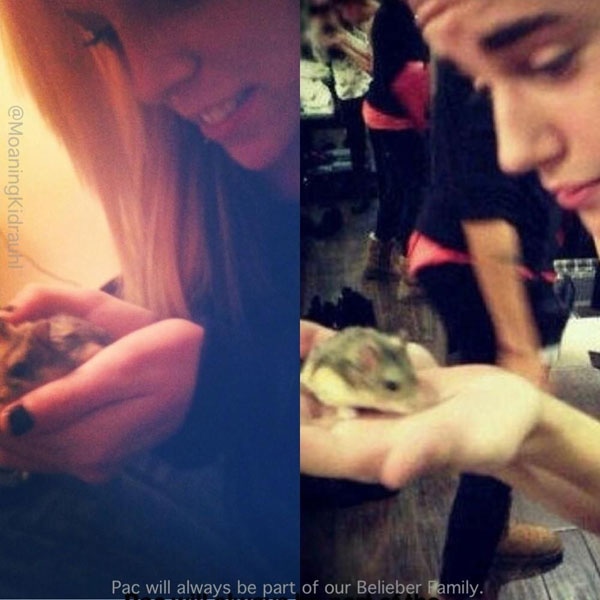 Twitter
#RIPPac, as the Twitterverse would say.
Justin Bieber's pet hamster Pac, which he had given away to fan and aspiring singer, Tori McClure in December, has passed away. 
"They say PAC probably won't make it much longer. He's like an old man. My feelings couldn't be more hurt ):," she tweeted last night, and added, "But they also said 'on the bright side he got to live a healthy lavish life of a popstar, not many hamsters coulda been the Biebs' #feelings."
Pac's mommy also posted the hamster's last photo and wrote, "I just wish he could get better. One final picture! He was OUR baby & @justinbieber I still can't thank u enough."
Biebs introduced his new pet to the world back in October through an Instagram photo, but ultimately gave the hamster to a fan he met outside of Jingle Ball in Atlanta in December.
"I got chills just when [Justin] asked me to have [Pac]. I never would've thought it would happen to me," McClure exclusively told E! News. "It's been amazing and getting to talk to the team and getting close to the Bieber was life-changing...[Pac] slept on my nightstand. He was beside me at all times. I mean, I loved him a lot."
Despite initially receiving a bit of backlash from—wait for it—The California Hamster Association for giving his furry friend away, the advocacy group backtracked and admitted that Bieber "meant well in delighting his adoring fan with the gift of his hamster."
McClure tells us that if she could say anything to Bieber it would be, "I would have never thought you would've given Pac away, and I would've never thought that it would be to me. But it's been a crazy ride so far—I'm gonna say so far because I know it's not over—you have changed my life. You've changed 35 million lives. This has kick-started my dream [of being a singer]. A shining beacon of hope came from a hamster from my idol." 
—Reporting by Rebecca Macatee