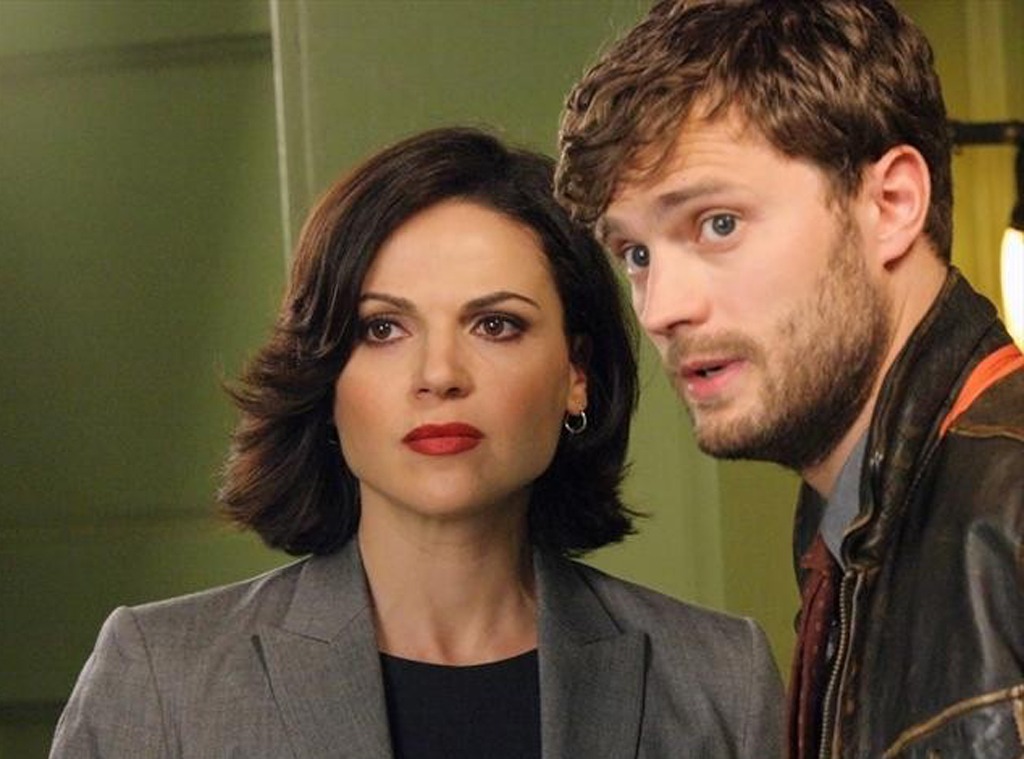 ABC/DAVID GRAY
He's ba-aack!
TV is about to get a bit more handsome as the fan favorite (dearly departed) Sherriff Graham is set to make his return to Once Upon a Time this week and we've got the juicy scoop on his appearance in today's Spoiler Chat, which also includes dish on two couples from New Girl and an update on Nashville's leading lady's complicated love life. Plus, we've got intel on Pretty Little Liars' finale, The Office's series finale and more...
Melly: 2 Broke Girls?? What's ahead for my favorite gals Max and Caroline?
Are you ready for Max and Caroline: movie stars?! In an upcoming episode, a director comes into the restaurant hoping to film on location there, and he wants to put the staff in the background of the movie! But he's definitely interested in one of the girls for more than just a little extra work. Wink-wink, nudge-nudge.
Mona: When is my handsome sheriff returning to Once Upon a Time?
You must be talking about the one and only hipster Sheriff Graham, aka Jamie Dornan. He is set to return in an upcoming flashback episode, and most of his scenes will be with Lana Parrilla. "You'll see the charming, handsome Jamie Dorman and I think there's a cute flirtation between them," she tells us. "Regina is excited to have him back in her life." Then why did you kill him, huh?! Sorry, we flew off the handle. Having a tough time letting that death go.
Zack: New Girl romance update! Go….
Don't tell us what to do! We will give you scoop at our leisure...OK, so we recently chatted with Jake Johnson and Hannah Simone about the future of their relationships on the show, and here is what they had to say. "CeCe is engaged right now. And as the season is shooting at the moment, she's on track to close the deal," Simone says. Sounds like we might get a New Girl wedding! As for Nick and Jess, it's still a bit of a waiting game, according to Johnson. "Whatever they do together, it's never going to be the end," he tells us. "So even if they get together, they could break up. I think they're just now starting to explore that and realize that they've got something nice, and we'll see what happens with it.
Kassandra: I love Rayna and Deacon on Nashville and would love some scoop on their future!
Well, we're sorry to be the ones bursting your bubble, but it seems Rayna will be spending a whole lot of time with another country guy on the ABC hit: Liam! Yes, Rayna and Liam will definitely be together by episode 18, like the kind of together where they are planning weekend trips.
Ellen: Is it true that The Office is wrapping this week?
Sad, but so true. The Office officially completes filming this week (but there will probably be super-secret filming happening after the wrap party), and the photos being tweeted out by castmembers are not helping with our denial. Case in point: Mindy Kaling posted this photo of Kelly's return to The Office, and it got our speculating wheels turning. That dress looks funeral-esque, right? We all know Kelly would wear white to a wedding, so it can't be for a marriage celebration. Or it could be nothing! But we're gonna go out on a completely unsupported limb and say: Creed is kicking the bucket.
Maakevdi: Pretty Little Liars scoop please!
Mark your calendars: The ABC Family hit returns for its fourth season on Tuesday, June 11! But looking to next week's finale, we'll see how "A" has assembled his or her team: Is it recruitment or blackmail? As for Bunheads, the network has yet to make a decision about a season two.
Amelia M.: Parks and Rec has been on hiatus for years. Is there a new episode this week and can you give me scoop on it?
A couple weeks without Parks and Rec does seem like years, doesn't it? Thankfully, Leslie Knope and Co. return this week with an all-new episode. We get to meet Jean-Ralphio's sister, who is working for a reluctant Tom at Rent-a-Swag, and she is far and away the worst employee in the history of the retail. But you know what they say: There's an awfully thin line between love and hate.
Danny in Chicago: Loved the photos of Benedict and Martin in yesterday's Spoiler Chat! Do you have anymore Sherlock spoilers?
We don't have any spoilers, but we do have a big, fat piece of amazing Sherlock news. Benedict Cumberbatch told RadioTimes that Sherlock season four is officially a go! "We've agreed to two more series but I could get into trouble for saying that. All I know at the moment is I'm doing these three and another three," he says in the interview. And Sherlock fans across the globe vomit in excitement. No? Just us?
—Additional reporting by Jenna Mullins and Tierney Bricker

Want your TV questions answered in our next Spoiler Chat? Email them to tvdiva@eonline.com or tweet at @KristinDSantos!