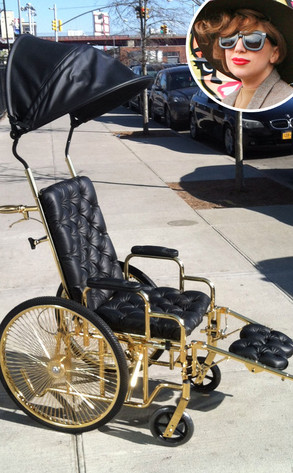 Splash News; Kevin Casey/WireImage
Leave it to Lady Gaga to refuse to let an injury cramp her style!
After undergoing hip surgery last month, the singer turned to designer Ken Borochov of luxury label Mordekai to create a custom wheelchair. And Borochov certainly didn't disappoint, creating a head-turning 24-karat gold plated chair that will have Gaga riding out her recovery in style!
"I certainly wasn't expecting that phone call and have never done a wheelchair, but am always up for a challenge and was thrilled to create what I affectionately dubbed the Chariot, a chair fit only for a queen," the designer explained in a statement.