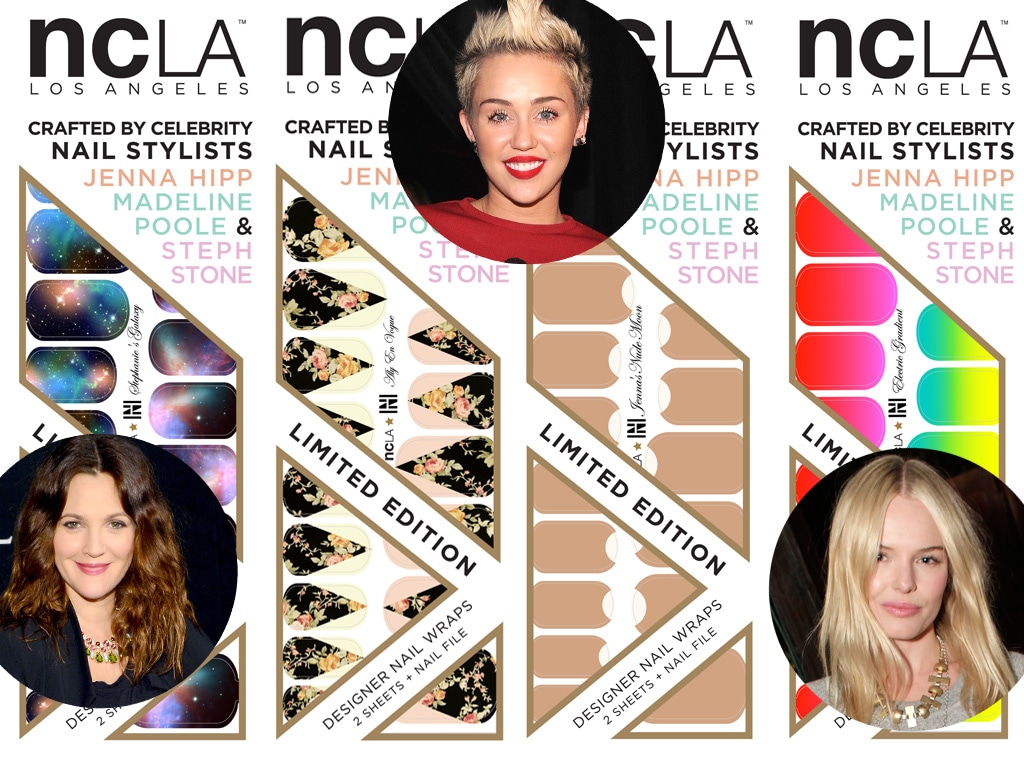 Courtesy: NCLA, Getty Images
Like any beauty junkie, we're totally obsessed with the raging nail-art trend. And while some of our fave—and most creative!—looks are inspired by stunning celebrity manicures, it's not always easy to replicate the stars' intricate looks.
Luckily for us, a few of Hollywood's most sought after manicurists have teamed up with NCLA Nail Wraps to create easy-to-apply nail decals emblazoned with styles similar to those created for celebrity clients. Jenna Hipp, who counts the edgy Miley Cyrus and Glee's Lea Michele as fans, designed simple chic half moon wraps inspired by requests she specifically received from leading ladies.
"Elegance and simplicity are very important to my style," Hipp explained in a release. "My wraps reflect that."
For the more adventurous gal, Drew Barrymore and Demi Lovato's go-to manicurist, Stephanie Stone, offers an out-of-this world galaxy print sure to spice up any look thanks to colorful psychedelic swirls, as well as a flirty floral style that's just perfect for spring. 
And while you might not be familiar with manicurist Madeline Poole's name, you likely know her celebrity clients—the oh-so-stylish Kate Bosworth and our own Kelly Osbourne—and the ombre nail trend she helped popularize. Poole's Electric Gradient design helps you mimic the trendy look in a punchy yellow-to-turquoise fade. 
The best part? No appointment necessary!