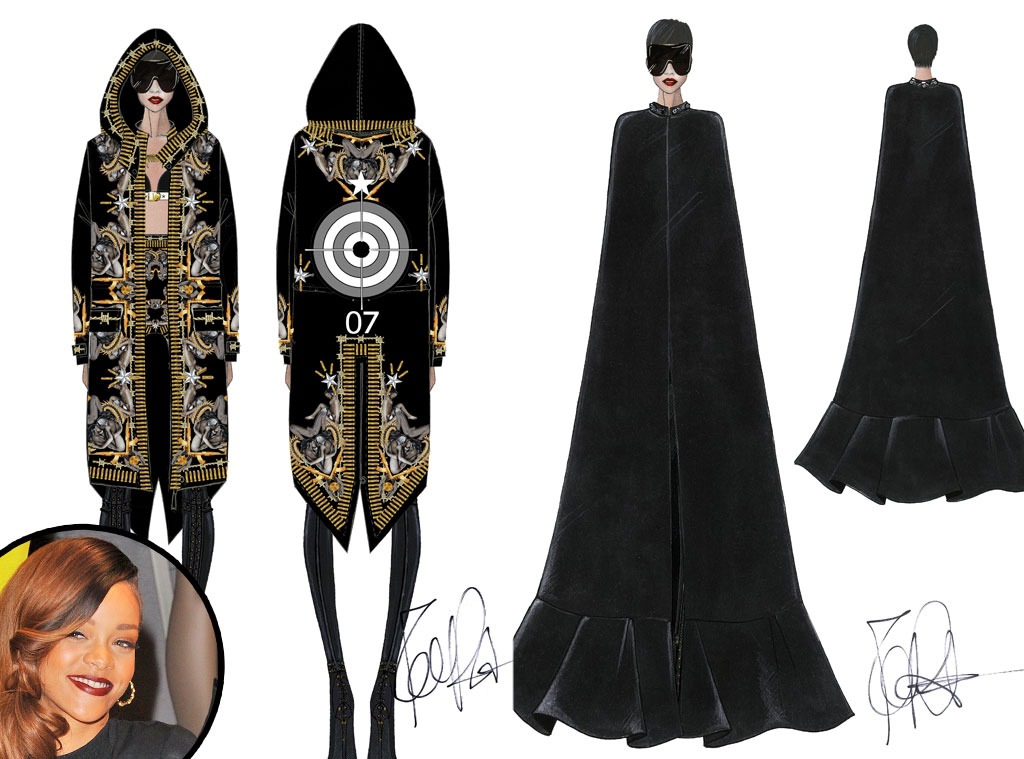 Stuart Wilson/WireImage; Courtesy: Givenchy
Rihanna may have designed a line for River Island, but the stylish singer is still turning to the pros when it comes to outfitting her Diamonds world tour.
That's right, the Barbadian beauty turned to none other than Givenchy's Riccardo Tisci to custom design a few pieces for the opening act of her show, which kicked off over the weekend in Buffalo, N.Y.
Tisci helped Ri-Ri, ahem, shine bright like a diamond in a bedazzled black-and-gold parka decorated with sparkling Swarovski elements, glam gold embroidery and an edgy gold bullet motif. A dramatic, floor-length silk ruffled cape also featured a bit of sparkle in the form of an embellished collar. 
But a floor-length cape? And a parka? That doesn't sound like the racy singer we've come to know! Needless to say, Rihanna showed a bit of skin underneath her bespoke outerwear, including Tisci's sexy leather bra and sassy silk-and-satin mini-shorts. And as for accessories, she donned oversized shades and a shark tooth necklace that read "RiRi" on the back.
This isn't the first time Tisci has personalized an item for the performer. Earlier this month, he sent her a custom T-shirt featuring her face for her birthday.
"Rihanna represents what young and amazing means today," Tisci said in a statement. "She is punk and talented. She offers intelligence, energy and pure beauty. She is the face of her generation."
Has Tisci found his new muse? Whatever the case, we're guessing he'll create many more customized pieces for the couture-loving crooner. 
What do you think of Rihanna's Givenchy looks?