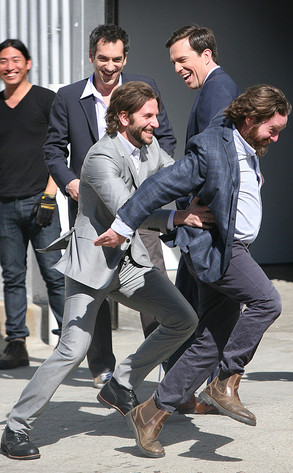 MOVI Inc. / Splash News
No matter how long it's been since the Wolfpack's last adventure, it's always a time when the boys get together.
The Hangover Part III stars Bradley Cooper, Zach Galifianakis and Ed Helms reunited today in Los Angeles for a photo shoot with director Todd Phililps—and, as always, boys will be boys.
Not only is Phil apparently taking style advice from Alan these days, with Cooper's hair starting to look remarkably Galifianakian (and the beard is getting there), but he just couldn't stop himself from reaching out for a squeeze as his cuddly costar darted away.