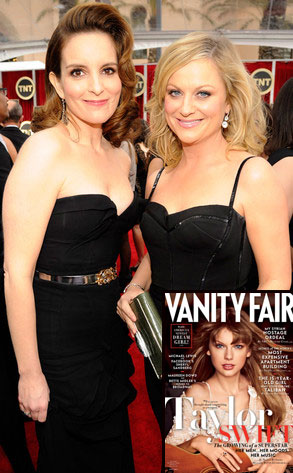 Courtesy of Kevin Mazur/WireImage, Peter Lindbergh/Vanity Fair
Just as they did at the Golden Globes, Tina Fey and Amy Poehler are keeping their wits about them when it comes to Taylor Swift.
Fey admitted to E! News tonight at the Admissions premiere that she's surprised Swift was annoyed at her and Poehler cracking wise about the singer's love life—because she figured if anyone was going to be mad, it would have been James Cameron.
Poehler, in case you had forgotten, joked that she hadn't been following the Zero Dark Thirty controversy, "but when it comes to torture, I trust the woman who spent three years married to James Cameron." (ZDT was, of course, directed by Cameron's ex-wife Kathryn Bigelow.)